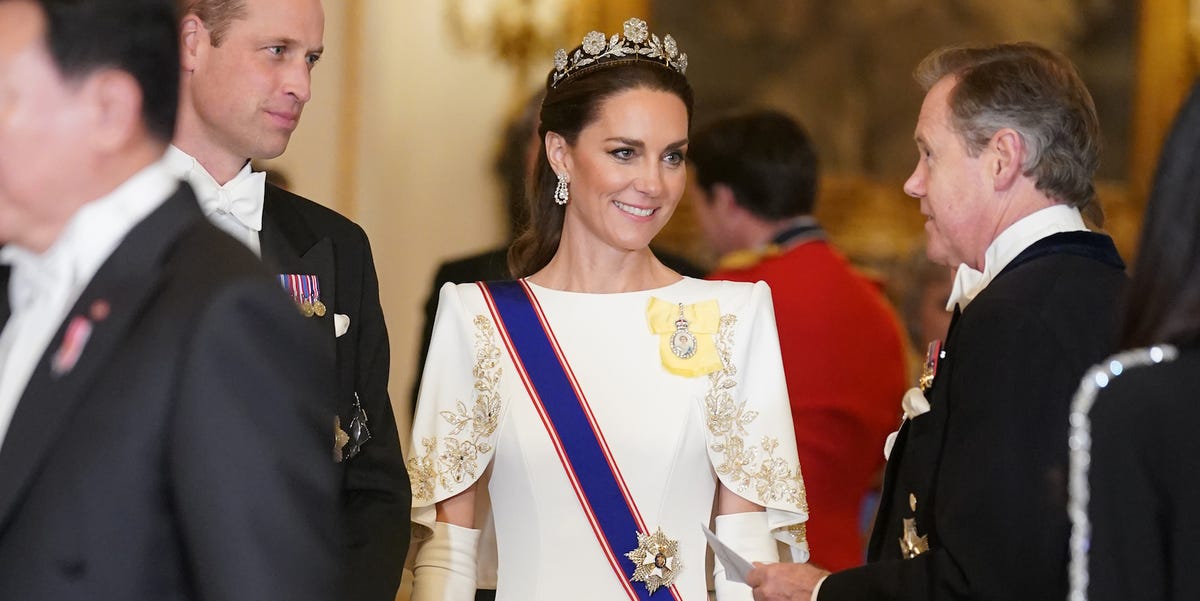 We don't often get to see the Princess of Wales in a tiara, but a state banquet today offered the perfect opportunity for Princess Kate to pull a dazzling piece from the royal archives.
Kate and husband Prince William were among the attendees at King Charles III's state banquet this evening at Buckingham Palace, held in honor of the arrival of Yoon Suk Yeol, president of the Republic of Korea, and Kim Keon Hee, the country's first lady.
The special occasion opened the door for Kate to deliver a rare tiara look. The royal family's website describes state banquets as "a very grand formal occasion held in the Buckingham Palace Ballroom," which is why female royals often choose to wear a tiara for such events.
Kate opted for the Strathmore Rose Tiara, a floral, diamond-encrusted diadem that once belonged to the Queen Mother. Last year, an expert contacted by Express estimated the sparkler's value at about half a million pounds.
The headpiece was an elegant complement to the rest of the princess's ensemble, which consisted of a white gown by Jenny Packham with gold embroidered cape sleeves, white opera gloves, and diamond drop earrings.
Earlier in the day, Kate joined William, Charles, and Queen Camilla in welcoming the Koreans to London with a formal ceremony at London's Horse Guards Parade ground. There, she made yet another bold fashion statement in a festive monochromatic outfit. This included a Catherine Walker cape coatdress awash in a bright candy-apple red, crimson suede pumps from Gianvito Rossi, a wide-brimmed red hat, and a rectangular red shoulder bag with a small bow, from Miu Miu.