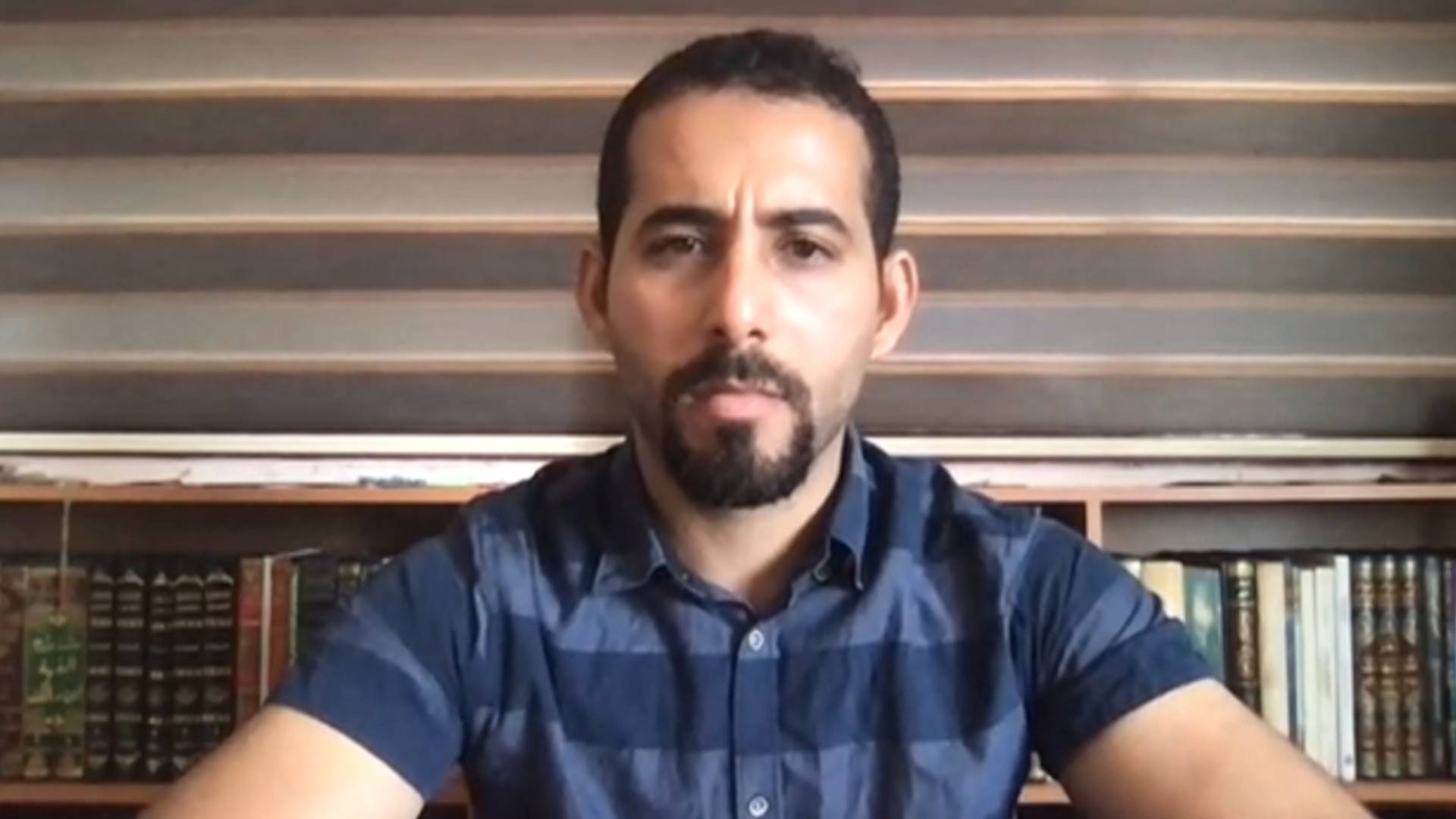 This is a rush transcript. Copy may not be in its final form.
AMY GOODMAN: This is Democracy Now!, democracynow.org, The War and Peace Report. I'm Amy Goodman, with Juan González.
Calls all growing across the globe for Israel to immediately release the acclaimed Palestinian poet and author Mosab Abu Toha, who was detained at an Israeli military checkpoint in Gaza this weekend while heading toward the Rafah border crossing with his family. His whereabouts are unknown.
His work has appeared in The New Yorker, The Atlantic, The Progressive and other publications. He founded the Edward Said Library in Gaza. His first book of poetry, Things You May Find Hidden in My Ear, won the American Book Award and was a finalist for the National Book Critics Circle Award. The poetry collection was published by City Lights Books.
In a recent essay in The New Yorker magazine, Abu Toha wrote, "I sit in my temporary house in the Jabalia camp, waiting for a ceasefire. I feel like I am in a cage. I'm being killed every day with my people. The only two things I can do are panic and breathe. There is no hope here," he wrote.
Mosab Abu Toha appeared on Democracy Now! a few weeks ago.
MOSAB ABU TOHA: I mean, where do we immigrate? We have been — we were born on this land. My parents were born on this land. My grandparents were born on this land. My great-grandparents were born here. But if you ask anyone in Israel, most of them would tell you that their grandparents were born somewhere else. And even I only have a Palestinian passport, which is really not very helpful when I leave Gaza — if I could leave Gaza. … So, where do we go? And Netanyahu, on the second day of the escalation, asked the Palestinians in Gaza to leave. He said, "Leave now." But where do we leave, and why should we leave? We have nowhere else to go.
AMY GOODMAN: Those the words of the Palestinian poet Mosab Abu Toha on Democracy Now! in October. His whereabouts are now unknown, after he was taken by Israeli forces at a checkpoint in Gaza.
We're joined now by Diana Buttu. She is a Palestinian lawyer, former adviser to the negotiating team of the Palestine Liberation Organization, broke the news of Mosab Abu Toha's kidnapping. She joins us now from Haifa.
Diana, can you talk about what you understand has happened to him?
DIANA BUTTU: Mosab's story is like that of so many Palestinians in Gaza. He was seeking refuge in the Jabaliya refugee camp. His own home was bombed and shattered to pieces. While he was in Jabaliya refugee camp, the Israelis perpetrated a massacre in Jabaliya, which was 70 meters away from where he was. He twice escaped death.
And his son is an American-born citizen. They, along with the rest of the family, finally got clearance to be able to leave Rafah to go elsewhere. And as they were fleeing from the heavily bombed north of — northern part of the Gaza Strip, they were forced to go through a checkpoint, what was supposed to be a safe passage, on Salah al-Din Road, which is the road that leads from the north to the south. At that checkpoint, at that military area, he, along with hundreds of other people, were forced to raise their hands. He was forced to put his son down on the ground, his young son, 3 years old, raise his hands in the air. And he and hundreds of others, men and women — this has been confirmed by his wife — were then abducted. They weren't arrested; they were abducted, kidnapped by the Israeli army, with everybody else told to continue on.
His family is not in Rafah. They are still trying to get to the south. It is near impossible to get to the south. And his family still has not heard from him. They have no idea of his whereabouts. We've checked everywhere with the ICRC, with representatives of Congress, with the State Department, and nobody has been able to provide us with even the simplest of answers in terms of where he is, why he's been abducted, what conditions he's being held under, and when it is that he will be released. And this is why so many are pushing and demanding not only for Mosab's release, but for the release of the hundreds of Palestinians that Israel has abducted over the course of the past seven weeks.
JUAN GONZÁLEZ: I'm wondering — you've commented in the past on the extent to which Israel has been disseminating false information about the war. Could you elaborate on what's been the effects of that?
DIANA BUTTU: Well, the effect has been that we now see that commercial media are looking and examining the tiny little minutia of disinformation that Israel is putting out, but they seem to ignore the bigger picture. And the bigger picture is that Israel is bombing a 2.2 million-populated refugee camp. Half of them are children.
And we just keep hearing one piece of disinformation after another. We've heard them talk about the legality of bombing hospitals, when anybody who has any sense of morality or notion of what's legal, what's right, knows that you can't bomb a hospital. And yet, rather than questioning that, we've seen instead that commercial media have been going down the path of simply accepting these truths.
We see this also when it's come to Mosab, that there's somehow an allegation that he has done something wrong, rather than people recognizing that this has been a pattern that Israel has been carrying out now for quite some time, for the past seven weeks. It's been going into Gaza. It's been abducting people, and without anybody knowing where their whereabouts are. We've seen this happen with Palestinian workers who happened — who had permits to be inside Israel, who were then not only abducted, but beaten, with their torture broadcast and put up on TikTok and on Instagram, and, of course, nobody even questioning the legality, the morality of doing any of those sorts of things.
So, the problem has been that they've gone down the path of somehow accepting the disinformation rather than questioning it and rather than questioning this big picture of the legality of Israel bombing a large refugee camp. The only reason that they're refugees is because Israel made them into refugees in the first place.
AMY GOODMAN: Can you explain more about how you're trying to get information and attention to Mosab's case right now? I mean, word is that Israel and Hamas are close to a hostage release agreement. Does this fit into that? Why is it so difficult to deal with Israel and Palestine right now? How are you able to communicate with both?
DIANA BUTTU: In terms of communication, communication is near impossible. And it's near impossible because the Israelis, a little over two weeks ago, imposed a blackout on telecommunications inside the Gaza Strip. And not only was there a blackout imposed, but it's also been impossible for roaming to be working. So, of the times that I'm able to reach friends, very dear friends, who are in the Gaza Strip, it usually takes about the entire day to reach one or two friends. Communication is near impossible.
And so, in terms of getting the story of Mosab out, it's been really just trying to connect with his family, particularly his wife, getting information, and then trying to spread it as wide as possible to friends who — people who know him, who have worked with him, his publisher, the people who have published him in the past, not just his book publisher but others, and trying to get that information going, so that people recognize that it isn't just the story of Mosab, but it's the story of thousands of other Palestinians, as well, and, indeed, millions of Palestinians who are now trapped inside the Gaza Strip. It has become near impossible, Amy, to reach people in Gaza, and it's become near impossible for them to even be able to reach the most basic things, like to contact an ambulance once there is an Israeli bomb, to be able to contact people to remove the rubble, to be able to get to the hospital. All of this has been done under the cover of darkness, and the fact — and yet, at the same time, we're watching this live. And the fact that nobody is doing anything about it speaks volumes.
AMY GOODMAN: I want to go back to Mosab Abu Toha speaking on Democracy Now! just a few weeks ago.
MOSAB ABU TOHA: Last night, my son, who is 3 years old, was sleeping, and there was bad bombing in the area. And he woke up, and he said, "Who did that?" And he said, "Let it stop." I mean, that was the first time he was asking me to do that, as if I was responsible for the bombing. So, I have nothing to do as a father. I have nothing to do as a neighbor or as a son. We are helpless here. We have been helpless all our lives, while the United States, unfortunately, is always stepping in to support Israel.
AMY GOODMAN: The words of the Palestinian poet and author Mosab Abu Toha, speaking on Democracy Now! a few weeks ago. To see the whole interview, go to democracynow.org. I also want to thank Diana Buttu, Palestinian lawyer, former adviser to the negotiating team of the Palestine Liberation Organization, speaking to us from Haifa.