Podcast co-producer Michael Olcott, a recent transplant to Philadelphia, said this city is a natural choice for a podcast about street art.
"Philly's a little less hesitant to let their freak flag fly," he said. "I spent some time in Boston. I spent some time in D.C. I think a lot of people are clutching their pearls in those cities when it comes to this kind of expression. Philly's a little rough around the edges. I mean that as a compliment."
Olcott recalled meeting another artist in the podcast, known as Busta, in a remote area by the Philadelphia airport that he found seedy, with "unsavory characters around, and sex shops."
On the side of what appears to be an abandoned semi-trailer on the edge of an empty parking lot, Busta had painted a large-scale mural in a place few would likely see it. Olcott asked him why.
"His eyes really lit up when I asked him that, like he was waiting for the question," he said. "It's a treat, like a light that appears when you're not expecting it, this graffiti work. If you get the chance to see it, it's a blessing for your day."
The podcast makes an argument that the act of painting on walls is a human instinct, tracing back 17,000 years to the Chauvet cave art in southern France, to the political graffiti found in the destroyed city of Pompeii, to unsolicited hieroglyphics carved into Egyptian pyramids.
"There's just something about our beautiful little brains where we want to write on walls around us," Benner said.
Benner lays out his credentials early in the podcast: He has not gone to art school, does not have an academic pedigree, and is not a practicing artist. Since 2010, he has produced the StreetsDept.com website, its lively social media presence, and walking tours of Philadelphia public art. He also has curated murals and street art exhibitions for special events and get-out-the-vote campaigns.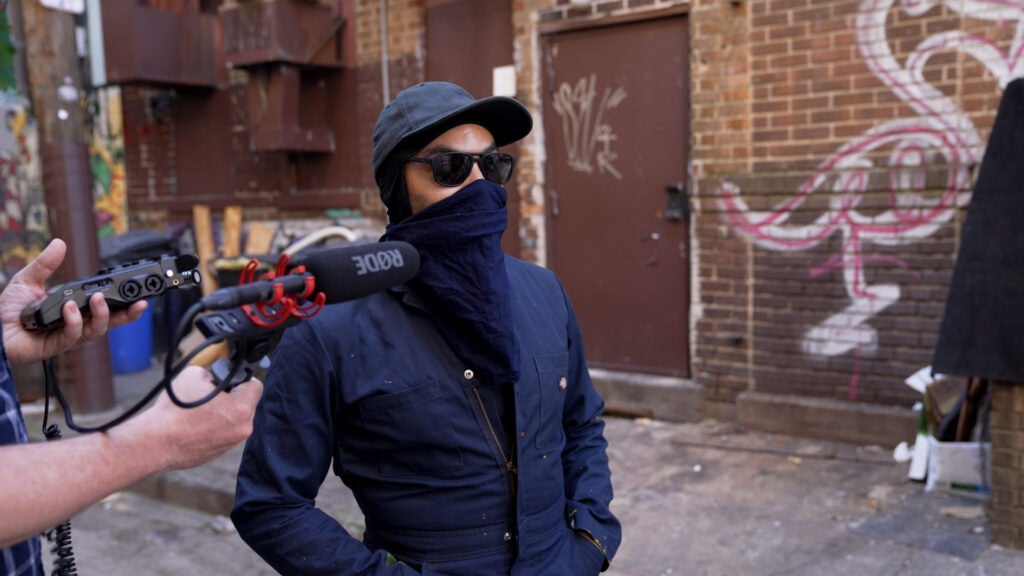 The podcast producers leaned heavily on Benner to come up with the guest list.
"We certainly wouldn't have known how to contact Kid Hazo, because he remains anonymous," Olcott said. "What we really wanted to make sure we showcased is artists from different backgrounds, with different experiences and worldviews. Different styles."
Olcott acknowledged that an audio podcast about a visual medium may seem awkward, but the episodes are carried by the artists' compelling personalities.
"Huge personalities," he said. "Mostly, it's them talking, in their affectionate and often passionate way, about what they're doing."