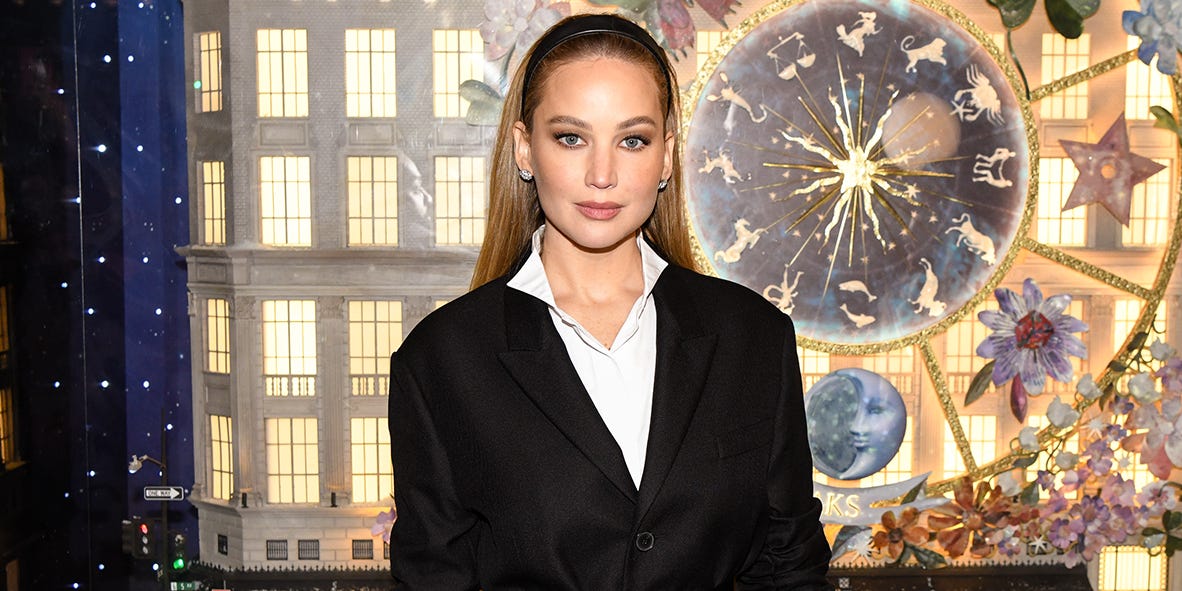 Dior brought the magic of the holidays with an ethereal "Carousel of Dreams" at Saks Fifth Avenue yesterday evening.
Jennifer Lawrence, Tracee Ellis Ross, Alexandra Daddario, Nina Dobrev, Rachel Zegler, Maya Hawke, and other friends of the house gathered on Fifth to witness the spectacular, colorful light carousel spin on the facade of Saks, delivering synchronized fireworks and dreamy music aligned to the moving imagery. The vibrant lights glowed and spun over the luxury department store's icy-white Dior-themed holiday windows, and reflected onto the roads still lined with yellow cabs and stunned passersby, who stopped for the show.
Saks CEO Marc Metrick and Chairman and CEO of Christian Dior Couture Delphine Arnault both took the stand to deliver heartfelt remarks about the special partnership. Lawrence, too, voiced her adoration for Dior and her excitement at getting to enjoy the brands' one-of-a-kind holiday light display.
"Let's light up the night!" Lawrence exclaimed, prompting the show to begin. The actor looked lovely in head-to-toe Dior for the occasion. Her ensemble was composed of a crisp white dress shirt layered under a long black collared coat which was buttoned and cinched at the waist with a thin black belt. Underneath, she wore a silky black pleated maxi skirt and black velvet heeled boots. Lawrence gave the look a preppy, feminine spin with a black headband, a quilted black Lady Dior bag, a gold chain chocker necklace, and large diamond stud earrings. She wore pretty, rosy makeup, including a pink lip, and had her blonde hair styled straight.
As the carousel spun in a plethora of colors, 60 dancers from Manhattan's world-renowned Martha Graham Dance Company—dressed in flowy, sheer black looks designed by Dior Creative Director Maria Grazia Chiuri herself—performed a powerful, enchanting number.
After the show, VIP guests moved inside the store to cap off the evening with a cocktail celebration at L'Avenue at Saks.