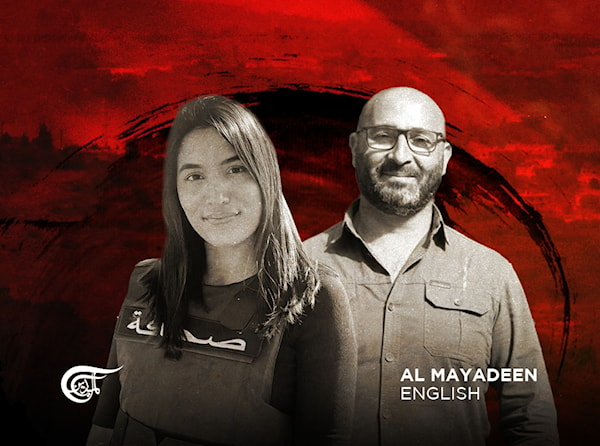 Al Mayadeen's correspondent, Farah Omar, alongside cameraman Rabih Me'mari, were martyred today by an Israeli bombing that deliberately targeted them after they had just finished their live broadcast.
Farah Omar, and Rabih Me'mari, Al Mayadeen's correspondent and cameraman who were targetted by an Israeli airstrike.
Al Mayadeen's correspondent, Farah Omar, and cameraman Rabih Al-Me'mari were murdered earlier today in an Israeli airstrike on their location in Tayr Harfa, South Lebanon.
An Israeli warplane fired two rockets on Farah and Rabih's location.
Farah and Rabih had just ended a live broadcast at 10 a.m., giving updates on the latest Israeli bombardment in South Lebanon. She and her colleagues were targeted soon after they wrapped up their coverage and went off air.
"المقاومة الإسلامية افتتحت عملياتها اليوم منذ الصباح الباكر رداً على استهداف منازل المدنيّين".@farah__omar @AlMayadeenNews #الميادين_لبنان #لبنان pic.twitter.com/mAXed6DMd3

— الميادين لبنان (@mayadeenlebanon) November 21, 2023
"Israel" has not been averse to the targeting of journalists, and has done so numerous times in the past month, both in Gaza and in South Lebanon.
Soon after the beginning of Operation Al-Aqsa Flood and as Israeli shelling on South Lebanon began to increase, "Israel" bombed journalists covering the events in the South, killing Reuters journalist Issam Abdallah, wounding two other Reuters journalists and an Al-Jazeera crew.
Again, on November 13, "Israel" launched a strike on media crews, including Al Mayadeen's, in the Lebanese town of Yaroun, near the border. However, the attack thankfully did not result in any injuries.
Al Mayadeen banned in Occupied Palestine
The intentional killing of our beloved colleagues Farah and Rabih comes after the Israeli war cabinet approved on November 13 regulations that would allow the occupation government to ban and shut down Al Mayadeen Media Network.
According to the decision, Al Mayadeen is said to be harming Israeli "national security."
Commenting on this issue, the Chairman of the Board of Directors of Al Mayadeen Media Network, Ghassan Ben Jeddou, during an interview with Al-Nour Radio, confirmed that "Israel's" decision to ban Al Mayadeen "was not a technical decision. It was not even a political decision. In fact, it was a military decision related to the national security of Israel."
"For the first time in history, the war cabinet, entrusted by the United States to make the most important decisions during this war, met to discuss Al Mayadeen Network as a topic on its agenda," he explained.
Read next: Ben Jeddou promises 'Israel' new fight in its own language