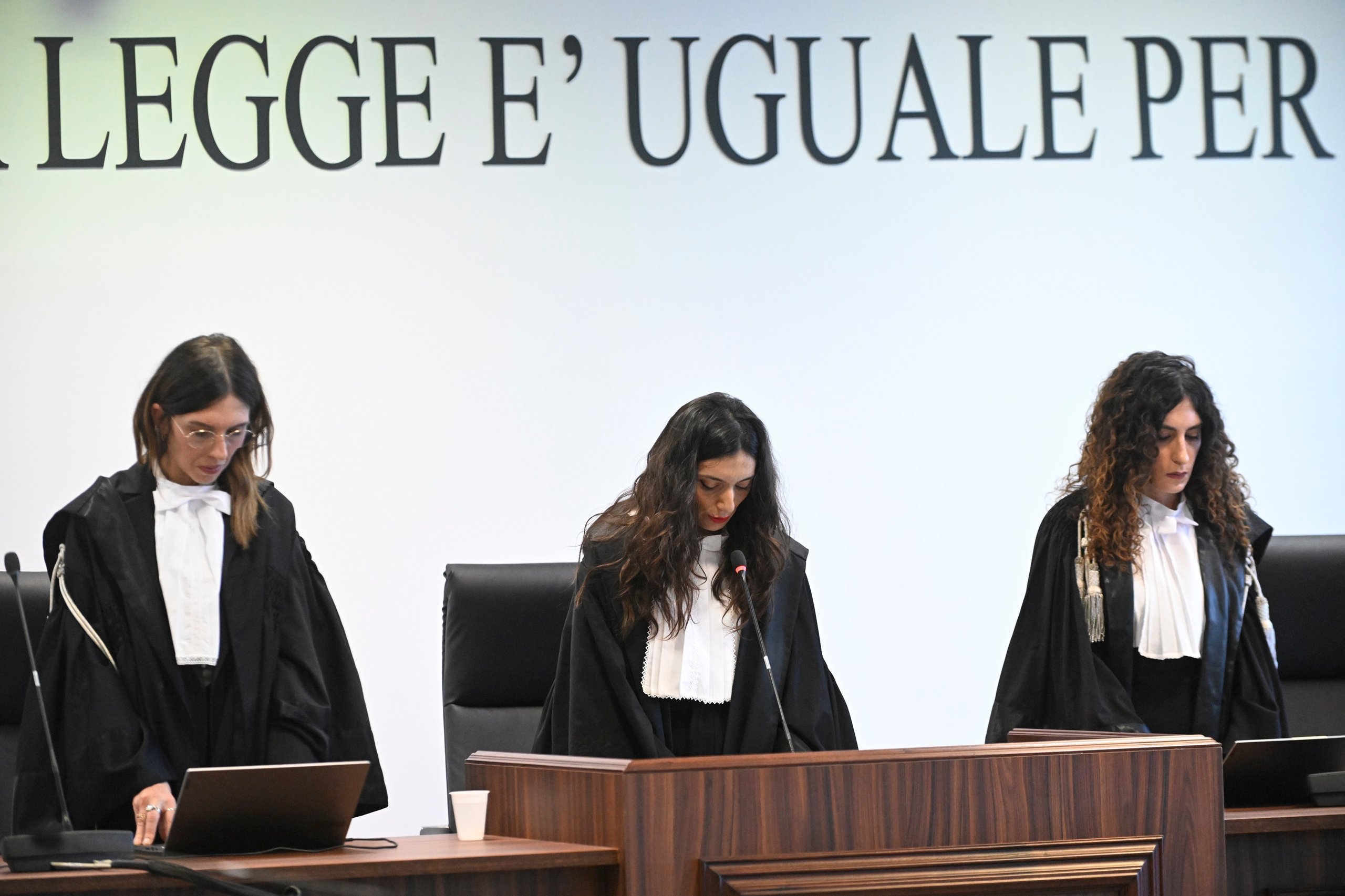 (CN) — More than 200 people, including mafia bosses and white-collar helpers, involved with Italy's most powerful organized crime group, the 'ndrangheta families of Calabria, were convicted Monday at a historic trial.
The 207 convictions and sentences were announced inside a massive fortified courtroom outside the city of Lamezia Terme in Calabria, a poor southern region home to the 'ndrangheta crime families.
The defendants included 'ndrangheta bosses, hardened criminals, businessmen, politicians, police, middlemen and hired guns.
The accused faced a range of charges, including drug and arms trafficking, extortion, financial irregularities, corruption of state officials and a mafia association, a term in Italy's penal code for members of organized crime groups. Others were charged with acting in complicity with the 'ndrangheta without actually being a member. Combined, the sentences amounted to 2,100 years in prison.
The judge overseeing the trial, Brigida Cavasino, took an hour and 40 minutes to read out the names of the guilty and their sentences, ranging from 30 years to a few months. Defendants incarcerated in prisons across Italy watched the proceedings via video link.
In many cases, the court accepted the sentences recommended by the prosecution, which called for terms totaling more than 4,700 years. But only four top members received the maximum penalty of 30 years. The prosecution sought guilty verdicts against 322 defendants, but 131 were acquitted.
One of the trial's most well-known figures was Giancarlo Pittelli, a 70-year-old former parliamentarian and defense lawyer accused of being a fixer for the mafia. He received 11 years, six years fewer than what prosecutors wanted.
The convictions struck a major blow at the 'ndrangheta, a crime syndicate made up of about 150 Calabrian families and their associates with global profits estimated at about $53 billion a year. The 'ndrangheta has cornered cocaine markets in Europe and extended its vast business interests to five continents.
It runs hotels, restaurants, pharmacies, car dealerships and other businesses throughout Italy, especially in Rome and the country's affluent north, criminal investigations have revealed.
The 'ndrangheta is based around exclusive family bonds, even more so than Sicily's Mafia families. Prosecutors scored a major success by getting some members to switch sides and become informants.
Monday's verdicts ended the largest mafia trial since a maxi-trial in Palermo against Sicily's Cosa Nostra between 1986 and 1987.
In Palermo, about 460 Sicilian mafiosi were put on trial and many were convicted, delivering a severe blow to what was then the world's most feared crime group. But the defeat of the Sicilian Mafia opened the way for Calabria's crime families to fill the void.
The trial in Calabria stemmed from a massive police raid in December 2019, when about 2,500 police officers and military agents raided the 'ndrangheta's most secretive hideouts.
The proceedings began in January 2021 and covered thousands of hours of testimony, much of it from dozens of former mafia members turned state witnesses.
The trial grew out of an investigation of 12 clans linked to a convicted 'ndrangheta boss. The central figure, Luigi Mancuso, served 19 years in an Italian prison for his role in leading what investigators allege is one of the 'ndrangheta's most powerful crime families, based in the town of Vibo Valentia.
On Monday, two of the group's bosses, Saverio Razionale and Domenico Bonavota, were sentenced to 30 years each.
Vincenzo Capomolla, deputy chief prosecutor of Catanzaro, said the convictions confirmed the stranglehold the 'ndrangheta held on Vibo Valentia.
"The infiltration of the criminal organization in the province of Vibo Valentia was so deep-rooted and so widespread, so alarming, so disturbing that I think it can be noted that there was no aspect of the life of the social economic fabric of the province that was not conditioned by the capacity of the force of intimidation of this so dangerous criminal organization," he said, as reported by The Associated Press.
Prosecutors sought to prove the 'ndrangheta's control over Calabria by proving collusion among mobsters and local politicians, public officials, businessmen and members of secret lodges.
Defense lawyers criticized the wide net cast by prosecutors and pointed to the large number of acquittals as proof that the prosecution's case was flawed. Lengthy appeals are expected.
Informants spoke about how weapons were hidden in cemetery chapels, ambulances used to transport drugs and municipal water supplies diverted to marijuana crops, as reported by AFP.
Those who opposed the mafia found dead puppies, dolphins or goat heads dumped on their doorsteps, sledgehammers taken to store fronts or cars torched. Less lucky were those beaten or fired at — or those whose bodies were never found, AFP reported.
The trial took place in a huge courtroom with seating for 1,000 people, specially constructed inside a former industrial warehouse. It included as many as 32 lavatories to ensure that judges, lawyers, witnesses and the accused did not run into each other accidentally.
On hand Monday was Rocco Mangiardi, 67, a local businessman and one of the first to denounce the 'ndrangheta for extortion before a judge in 2009, AFP reported.
Mangiardi, who has lived under police escort ever since, lamented the low turnout for the trial's climax.
"This courtroom should be filled with citizens," he told AFP. "To show the judges that we're on their side and then to tell the mafiosi with their presence 'We don't want you.'"
Courthouse News reporter Cain Burdeau is based in the European Union.
Subscribe to Closing Arguments
Sign up for new weekly newsletter Closing Arguments to get the latest about ongoing trials, major litigation and hot cases and rulings in courthouses around the U.S. and the world.