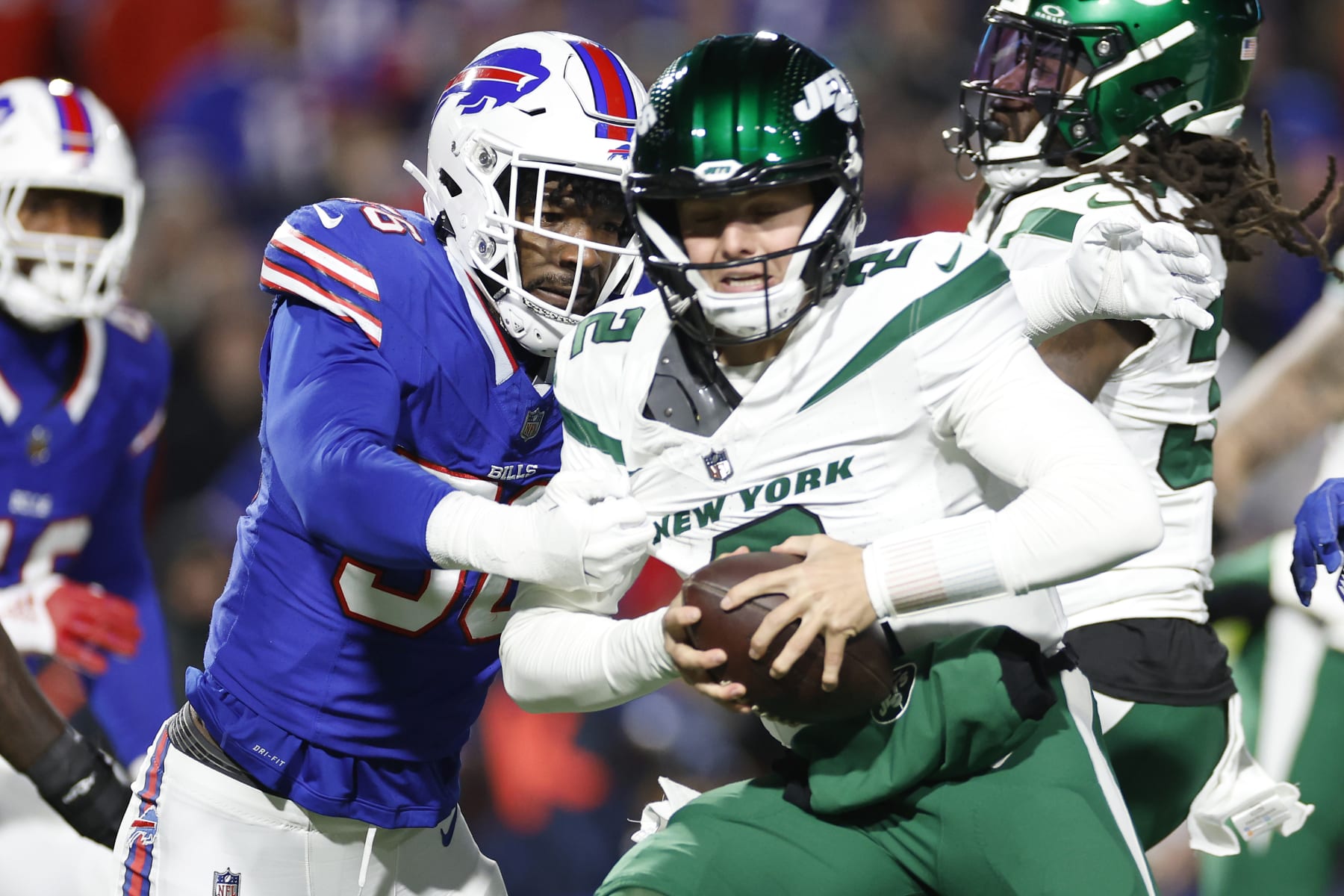 The New York Jets are finally making a change.
Following Sunday night's 32-6 loss against the Buffalo Bills—a game in which they gained only 155 yards of total offense and lost four turnovers—the Jets are benching quarterback Zach Wilson in favor of Tim Boyle, which NFL Network's Ian Rapoport initially reported Monday.
New York head coach Robert Saleh confirmed the news, adding that Trevor Siemian will serve as the team's backup:
There was a sense of inevitability in the reaction to the news, along with general bewilderment about why the Jets didn't make a change sooner:
Wilson, 24, has been awful this season, throwing for 1,944 yards, six touchdowns and seven interceptions, taking 38 sacks while completing just 59.2 percent of his passes. His struggles haven't come as a huge surprise, given that he threw for 15 touchdowns and 18 interceptions in his first two seasons.
But he was so poor on Sunday night that his head coach, Robert Saleh—who has vociferously defended him throughout the season—benched him in the third quarter, foreshadowing Monday's news.
"Like I told Zach on the sideline, it's not just him," he told reporters after the game. "It's easy to point the finger at the quarterback, but it's pretty easy to see. You've got missed protections, you've got dropped balls, you've got missed routes. Now, obviously, he has to get better. There are things he could've done a lot better, but it's everyone right now."
Wilson said on Sunday night that he understood Saleh's decision.
"Frustrated, but I get it," he told reporters. "[You] have to score, have to be in games. When it's consecutive games of just doing nothing on offense, you know you can sit here and say last week we moved the ball, but we're not scoring. It essentially comes down to you have to score. So when things aren't getting done, change has to be made, and I understand that."
Wilson was also benched twice last season, and at this point, it seems that any plans of having Wilson learn under Aaron Rodgers—who is currently rehabbing an Achilles injury—and become the long-term successor are foolhardy. Wilson has put 32 NFL games on tape, and the tape is rough.
The present may continue to be rough for the 4-6 Jets, too. Boyle, 29, has only made three career starts and has lost all of them. In total he's thrown for 607 yards, three touchdowns and nine interceptions in 18 appearances.
So the career backup will get thrown to the wolves against the AFC East-leading Miami Dolphins (7-3) on Friday, trying to save New York's season. It's hardly ideal, but at this point, the Jets are assuming it can't get much worse.