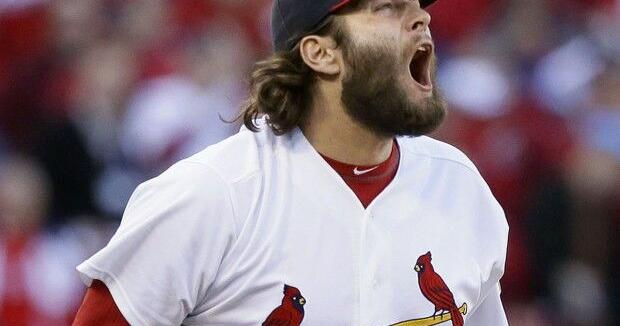 The Cardinals' first move to restock their rotation is a retro one.
Right-hander Lance Lynn, a fixture in the rotation for years, is finalizing a one-year deal to return to the Cardinals, and the contract includes an option for 2025, a source told the Post-Dispatch. The deal is pending a physical to be completed Tuesday.
The contract guarantees Lynn $11 million and gives the veteran right-hander the chance to earn more than $20 million over the two seasons, a source described. The break down of the deal is $10 million in salary for 2024, a $1 million buyout, and he can earn an additional $3 million in incentives from 2024. The option is $12 million for 2025, a source detailed.
Lynn, 36, was 13-11 with a 5.73 ERA in 32 starts this past season, which he started with the White Sox and finished in Los Angeles with the Dodgers after a trade. The bulk of his ERA came on the 44 home runs he allowed, and that included nearly half of the 33 runs he allowed with the Dodgers coming from the batters who hit a total of 16 homers against him in 64 innings with LA.
A first-round pick of the Cardinals in 2008, Lynn debuted with the World Series championship team in 2011 and became part of World Series lore when he reported to the mound as a reliever, much to the surprise of manager Tony La Russa. The right-hander became a stalwart for the rotation through the Cardinals' run of NLCS appearances, and in six years with the club, Lynn went 72-47 with a 3.38 ERA and 919 strikeouts in 977 2/3 innings.
Overall in his career, the Indiana workhorse is 136-95 with a 3.74 ERA in 341 games, 317 of which were starts.
This past season, he had 191 strikeouts in 183 2/3 innings.
The Cardinals have been shopping for multiple starters this offseason. One pitcher who has drawn their interest, Yoshinobu Yamamoto, was reportedly posted by the Orix Buffaloes on Monday, making him available to teams as of Tuesday. There is a 45-day window for him to sign with a major-league club.
The Cardinals also wanted to add "volume" innings and certainty, which Lynn provides by being the reliable, long-haul starter to balance a rotation. During the season, the Cardinals also wondered if they needed a "rusty nail" presence like Lynn can bring with his biting wit, experience, and bluntness. 
This is a breaking news story and will be updated.