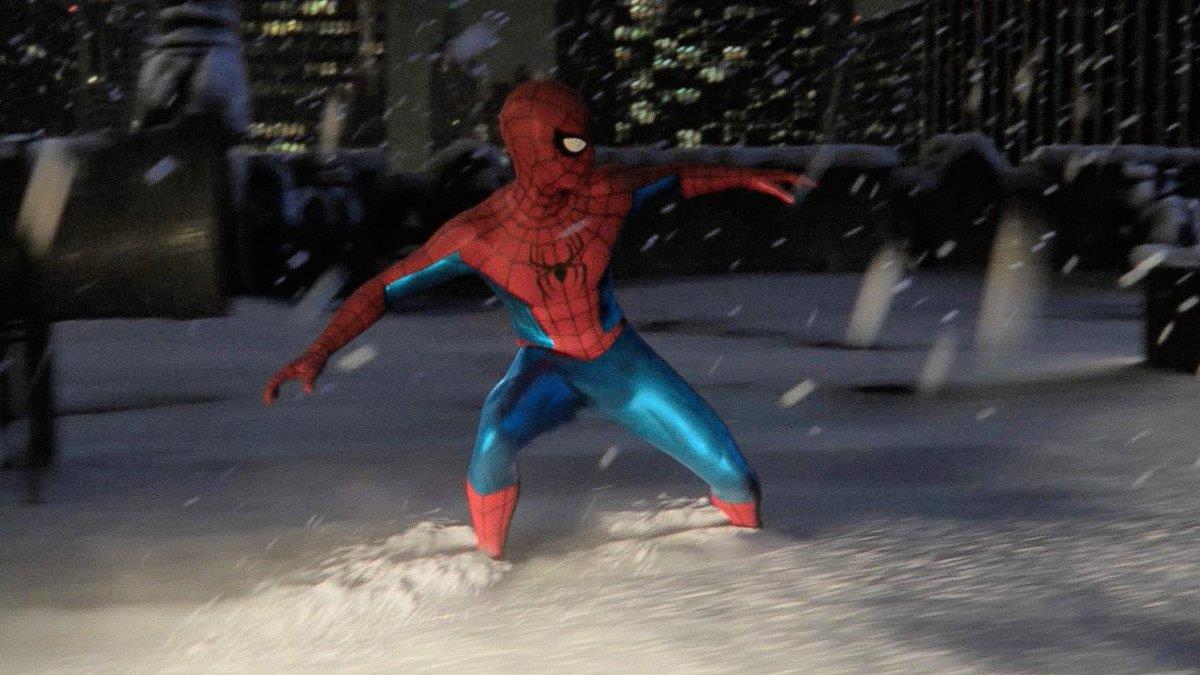 In Spider-Man: No Way Home's closing moments, Peter Parker moved into a Manhattan apartment following the death of his Aunt May. The hero then swung through New York City's skyscrapers in a classic costume which appeared to ditch the many gadgets those created for him by Tony Stark became known for.
When concept artist Rob Brunette shared some promotional shots of the suit following the 2021 movie's release, many fans noticed that it appeared to feature a golden spider symbol on the web-slinger's chest. The lighting made it hard to see that in No Way Home's closing sequence, while a Hot Toys figure was later revealed which featured a black logo. 
Of course, it's important to remember those prototypes are typically based on very early concept art, explaining why a figure produced in time for the movie's release depicting the black suit Peter wore to battle Sandman and Electro is completely inaccurate. 
Now, Insomniac Games' Senior Character Artist for the Spider-Man 2 video game, Matt Lefferts, has shared the game's interpretation of Spider-Man: No Way Home's red and blue suit. This will have obviously beeen based on the final design and, yes, it features a gold symbol!
"I enjoyed working on the New Red and Blue Suit suit for Marvel's Spider-Man 2," the artist says. "I was responsible for the high-poly, game asset/uvs and texturing/shading. For the detail tileables for this asset I used Substance Designer to get a more cloth like suit material to match the film reference."
"This asset is a culmination of many talented contributors across multiple disciplines and I would like to thank everyone who had a part in its creation," Lefferts adds. "I would also like to thank Insomniac Games, Marvel Games and Sony Interactive Entertainment."
It appears the gold spider is here to stay and must be a reference to either the fallen Iron Man or a hint that a trace of the Iron Spider suit remains (suggesting this costume isn't as traditional as it first appears). Unfortunately, we're unlikely to learn more until Spider-Man 4 rolls around a couple of years from now.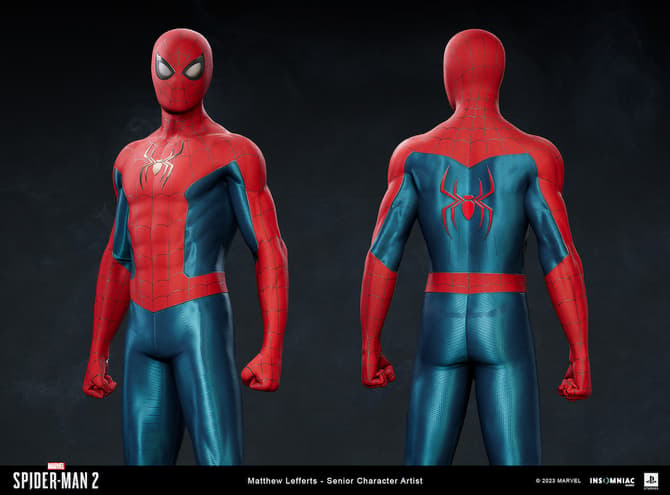 As you can see from the aforementioned promo art, that logo is definitely gold…
In Spider-Man: No Way Home, for the first time in the cinematic history of Spider-Man, our friendly neighbourhood hero's identity is revealed, bringing his superhero responsibilities into conflict with his normal life and putting those he cares about most at risk.
When he enlists Doctor Strange's help to restore his secret, the spell tears a hole in their world, releasing the most powerful villains who've ever fought a Spider-Man in any universe. Now, Peter will have to overcome his greatest challenge yet, which will not only forever alter his own future but the future of the Multiverse.
The movie stars Tom Holland, Tobey Maguire, Andrew Garfield, Zendaya, Benedict Cumberbatch, Jon Favreau, Jacob Batalon, Marisa Tomei, J. B. Smoove, Benedict Wong, J.K. Simmons, Alfred Molina, Jamie Foxx, Willem Dafoe, Thomas Haden Church, and Rhys Ifans.
Spider-Man: No Way Home is now available to buy wherever you get your movies.