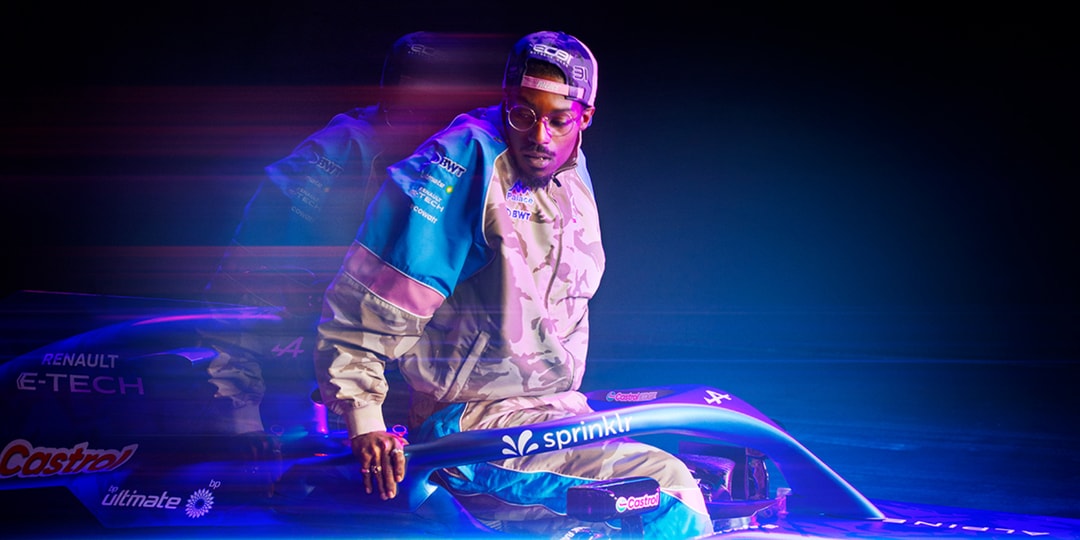 It's no secret that streetwear has long been bullish on Formula 1 racing. The sport is not only experiencing growth in the US market but also in the fashion industry globally. This year, the United States' three Formula 1 Grand Prix events in Miami, Austin and Las Vegas were considered the most expensive in the race season's calendar. In fashion and streetwear, we've seen an uptick from brands like Tommy Hilfiger, Awake, Palm Angels and more dropping collaborations alongside F1 teams and drivers.
However, this weekend's Las Vegas Grand Prix tipped the scales of streetwear's love for Formula 1 with countless collaborations and activations. And why not? It was F1's first race in Sin City since the '80s and fashion-focused F1 fans were looking to get their hands on clothing and accessories meant to be more special than the generic team apparel their favorite constructors were offering. Luckily, notable names like PUMA, Palace and even Takashi Murakami made their presence known in Vegas, offering both limited collab pieces as well as events that brought together race and streetwear enthusiasts all over the world together.
One of the weekend's most talked about collections and activations was PUMA's F1 collab with the brand's newest creative director, A$AP Rocky. The race-inspired capsule, consisting of graphic hoodies, tees, jackets, bottoms, caps, gloves and a balaclava, were available for purchase at a special Vegas pop-up held at a gas station, to which Rocky and Rihanna appeared at, sending race, rap and fashion fans into a frenzy. Additionally, PUMA doubled down on its F1 focused collaborations, tapping artist-designer Joshua Vides to create a capsule for Scuderia Ferrari. Team drivers Charles Leclerc and Carlos Sainz, who donned some of the pieces for the collection lookbook, were seen around town at events wearing the collab's tees and polos.
Perhaps one of the most visibly worn collaborations during F1 weekend in Las Vegas was Palace and KAPPA's collection for the Alpine Formula 1 team. It was a chilly November in the desert city so numerous race fans were spotted wearing the partnership's jackets and hoodies. These pieces were hard to miss as they were vividly designed with the Alpine team's signature bright blue and pink hues topped with Palace's Tri-Ferg motif at the back. As expected, the Palace x KAPPA x Alpine collab drew in crowds as fans lined up at The Venetian Shop in Las Vegas daily to get their hands on the release. At the races, Alpine fans proudly wore their purchases, while some of the engineers and staff members at the Alpine team garage had their special Palace x KAPPA pieces on as they worked throughout practices, qualifiers and the main event.
Stepping away from constructor focused collabs, Takashi Murakami and Lewis Hamilton partnered up to release merch under Hamilton's brand +44. It was the duo's second collaboration and consisted of hoodies, T-shirts, long sleeves and accessories emblazoned with the renowned artist's surreal motifs and Hamilton's +44 logo. The dedicated pop-up for the partnership was held at the Wynn hotel where crowds gathered to make their purchases and see a dance performance by dancer YOOL who was joined by a Murakami flower mascot.
The collaborations mentioned above weren't the only brands and designers worn during race week. Spotted around the strip and near the race tracks were F1-collab pieces by UNDEFEATED, Malbon Golf and Feature LV. UNDEFEATED sold their pieces at its Las Vegas store location, while Feature LV held an F1 dedicated event to launch its collection. For those with a little bit more time and money, the Mercedes-AMG x sacai collab attracted some to venture into the desert outside city limits to check out the collection at AMG Speed City.
Las Vegas is hardly a fashion capital. With all the glitz, gambling and debauchery, fashion takes a back seat in the city of sin. Ironically, countless luxury shops from the biggest fashion brands are easily accessible here, yet there seems to be a struggle when it comes to taste and curation: there's not an easily-definable "Vegas style" outside of the ostentation that the city can be known for. Retailers such as Chrome Hearts, Feature LV and UNDEFEATED do have a presence in Las Vegas which helps the city start to embrace luxury and streetwear in a more "cool" and global scale.
Ultimately, with a grand event like Formula 1 in town, the sport's prestige and reputation could rub off on Vegas. And with continued F1 presence in the future, Las Vegas could become more of a prestigious and respected destination for streetwear fans.