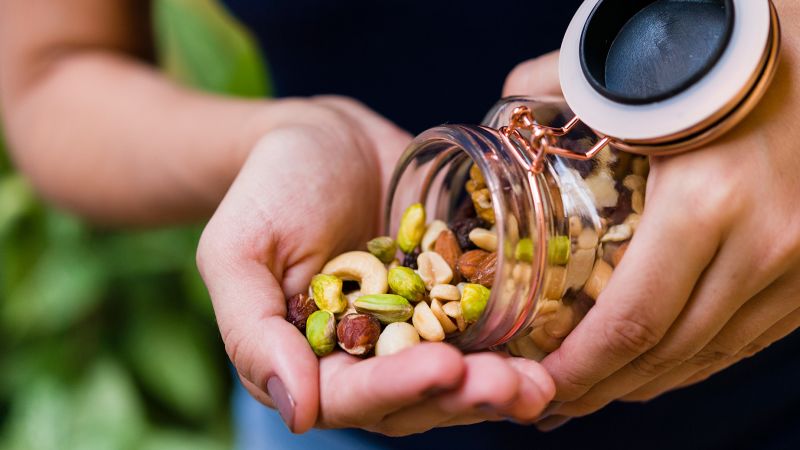 Sign up for CNN's Eat, But Better: Mediterranean Style newsletter, an eight-part series that guides you in an expert-backed eating lifestyle that's good for your health.


CNN
 — 

Toss toasted pecans into a salad instead of croutons. Add chopped walnuts to Saturday morning's pancake mix. Swirl some peanut butter into the sauce of a veggie stir-fry.
These simple steps to add nutty goodness elevate the flavors in a recipe and boost the nutrition in your dish.
Nuts get rave reviews from nutritionists like me primarily because of their healthy fat profile. Walnuts, almonds, pistachios and hazelnuts are rich in cholesterol-lowering monounsaturated and polyunsaturated fats and contain lower amounts of cholesterol-raising saturated fats. (So do peanuts, which are technically legumes.)
luchezar/E+/Getty Images
Nuts can be incorporated into the recipes for many tasty dishes such as Thai chicken satay with peanut sauce.
And that's not all. Nuts contain dietary fiber, plant-based protein, vitamin E and potassium, calcium and magnesium. Because they're chock-full of these nutrients and the fats that support heart health, the US Food and Drug Administration allows packages of nuts to sport this qualified health claim:  "Scientific evidence suggests, but does not prove, that eating 1.5 ounces per day of most nuts as part of a diet low in saturated fat and cholesterol may reduce the risk of heart disease." (While the government-speak wording seems a bit wishy-washy, the FDA claim is meant to encourage daily nut consumption to help prevent heart disease.)
"Nuts are nutrient-dense foods filled with healthy fats that are linked to optimal health, primarily heart health benefits," said Sharon Palmer, a registered dietitian nutritionist and author of "The Plant-Powered Plan to Beat Diabetes." "Eating just a handful of nuts a day lowers LDL (bad) cholesterol levels and benefits blood pressure and inflammation, which can lead to better heart health."
How many nuts do you need to nosh to gain heart health benefits? One and half ounces equal about a handful. Since hand sizes vary, a more specific equivalent measurement is 1⁄3 cup. Just how many you count per serving depends on the nut. You'll get more tiny pistachios than chunky walnut halves, for instance.
Haven't seen your favorite nut named yet? When the FDA originally published the qualified health claim, several varieties of nuts including pecans, macadamias and cashews were omitted because of their slightly higher concentrations of saturated fats.
Julio Ricco/iStockphoto/Getty Images
Rather than picking one nut to be your go-to, perhaps mixing it up is the best way to ensure you're getting all the possible nutrients the nut world has to offer.
But further research determined that macadamia nuts are impressively high in monounsaturated fats so the FDA approved use of the health claim in 2017.
Pecans were added to the list, too.
What about cashews? Cashews have not been approved to use the FDA health claim — even though most of the saturated fat in cashews is from stearic acid, a fatty acid thought to have no effect on blood cholesterol, and studies have shown that eating cashews can even lower levels of harmful LDL cholesterol.
The evidence that nuts are a healthful choice just keeps piling up. The terrific trio of protein, fiber and healthy fats in nuts adds satiety to meals and snacks and helps you feel fuller longer.
They're considered a tasty tool for weight management, with studies showing that people who include nuts in their meal patterns tend to weigh less.
"There are even benefits for potential diabetes prevention, cancer protection and brain health with nut consumption," Palmer said. "Some nuts have been linked to gut health, improved fertility and reduced risk of Alzheimer's disease."
In the health and beauty category, research shows that nutrients in almonds, such as vitamin E, selenium and zinc, support skin health by reducing facial wrinkles and improving skin tone.
Handful, not a can-full

No matter how inspired you get to sprinkle more nuts into your food life, note that current advice recommends a handful, not a full can. Nuts are high in fat content, so they're also high in calories.
And to reap the most benefits, it's key to make eating nuts a habit over the long haul. "Many healthy eating patterns, such as the renowned Mediterranean diet, include nuts on a regular basis in the diet,'' Palmer said. "These have been important parts of cultural diets since the beginning of time."
fcafotodigital/E+/Getty Images
Peanuts, which are technically legumes, are a good source of fiber and serve up 7 grams of plant-based protein per ounce.
Each nut has its own nutrition story to tell.
Almonds: A good source of calcium, vitamin E and fiber content, almonds also rank high in protein content with 6 grams per ounce.
Peanuts: Technically legumes, peanuts are a good source of fiber and serve up more protein than tree nuts with 7 grams plant-based protein per ounce.
Pecans: They rank high in zinc, iron and the B vitamin niacin content. Pecans are second, just behind almonds, in vitamin E content.
Pistachios: Ranked highest among the nuts in potassium content and noted for supporting blood pressure control, they match almonds at 6 grams protein per ounce and are a good source of vitamin B6 and iron.
Walnuts: An excellent source of plant-based omega-3 fatty acids, walnuts are noted for reducing inflammation and a good source of vitamin B6 and magnesium.
Rather than picking one nut to be your go-to, perhaps mixing it up is the best way to ensure you're getting all the possible nutrients the nut world has to offer. So, pick pecans one day and walnuts the next. Or just grab a package of mixed nuts.
Candice Bell/iStockphoto/Getty Images
Nuts can be used to bread fish or chicken. Here is a baked white fish fillet garnished with fresh dill and a slice of lemon.
To save money when buying nuts, think small such as nut pieces and nut meal. The most expensive way to buy them is perfectly shelled such as whole almonds, pecan halves and walnut halves. You can buy pecan pieces, which sell for less per pound. Nut meals, not to be confused with nut flours, are ground up nuts, often a biproduct of the shelling process. They can be used as a coating for baked chicken, sautéed fish or roasted vegetables.
It's easy to snack on nuts as part of a healthy lifestyle, but I also use nuts in many recipes. I add toasted pecan pieces to wild rice or brown rice dishes. Pistachios are the base I use to make a basil and garlic pesto instead of pine nuts, and they work as a dressing for pasta salads, too. I also like to garnish cooked vegetables with nuts (try steamed broccoli with almond slivers). To add satisfying crunch to snack time, I sprinkle chopped mixed nuts on top of yogurt.
Need more ideas?
"Use nuts instead of breadcrumbs to bread chicken and fish or go 50-50 with half breadcrumbs and half finely chopped pecans, pistachios, walnuts or almonds," said Liz Weiss, blogger at Liz's Healthy Table.
"When using a box mix to make pancakes or muffins, add finely chopped nuts or nut meal to amp up the nutrition."
Carolyn O'Neil is a registered dietitian nutritionist, blogger at The Happy Healthy Kitchen and coauthor of "The Dish on Eating Healthy and Being Fabulous!"