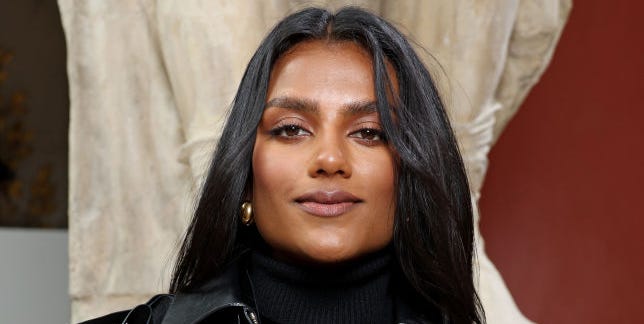 Fashion fans, gird your loins: next season's most risqué trend has already dropped. Yep, style is getting racier than ever – even as temperatures are dropping with the new season.
We've already embraced the sheer fabrics of the naked dress (not to mention naked tops, naked skirts, naked suits…you get the picture) which had us daring to bare all summer long in completely see-through garments. And then there was the iconic turn towards the "no trousers" (or "no pants" for the Americans out there) look – which saw the likes of Kendall Jenner and Camila Mendes step out in shirts worn as dresses or bikini-style briefs, displaying a minimal af approach to the bottom halves of their outfits.
Now, we've got a new trend to obsess over: the belt skirt. Most famously encapsulated by Diesel's wrap-front, distressed leather version – which popped off on TikTok a few months ago after fashion girlies everywhere marvelled at its tiny dimensions – the controversial item has now found a fan in Bridgerton star and all-around it girl Simone Ashley.
Yep, the actress was spotted outside the Valentino runway show during Paris Fashion Week on Sunday and was sporting the teensiest of black mini skirts, worn as a narrow band of fabric across her hips.
In addition to what's sure to be the new season's biggest trend, Simone rocked a matching black crop top, a black leather jacket with rose embellishment, micro sunglasses and contrasting, white thigh-high boots.
Get ready, this look is going to be *everywhere*!