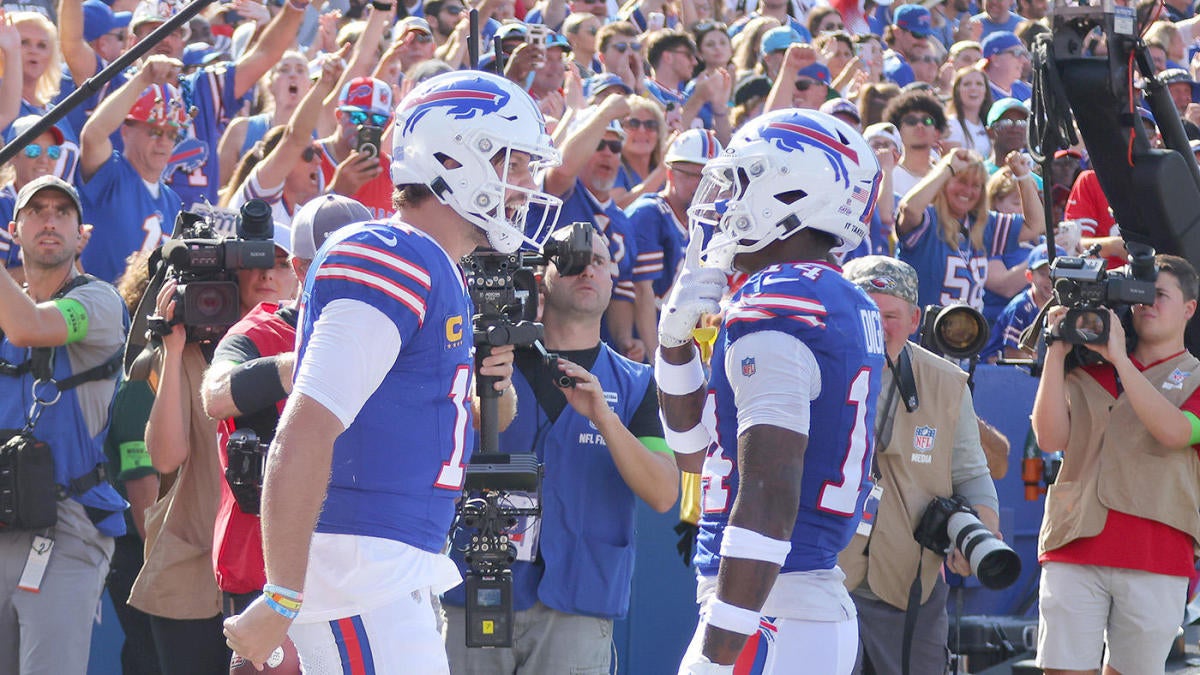 Welcome to the Week 4 grades!
If you're a fan of a team in the AFC North, you might want to stop reading because it's been an ugly day for that division. The four teams went a combined 1-3, and the only reason one even got a win is because two of the teams in the division played each other (Baltimore and Cleveland). 
The only thing worse than being a fan of an AFC North team is being a fan of the Bears, who tied a franchise record for futility by blowing a 21-point lead in a loss to the Broncos. 
There were a lot of wild games on Sunday and we graded them all, so let's get to the grades. Before we start, we're going to give Taylor Swift an 'A' for showing up to MetLife Stadium and bringing all of her celebrity friends with her. Speaking of swift, Let's start our grades with the Sunday night game. 
Kansas City 23-20 over N.Y. Jets
Chiefs-Jets grades by John Breech (Love the grades? Hate the grades? Let him know on Twitter.)
Jacksonville 23-7 over Atlanta (in London)
Falcons-Jaguars grades by Bryan DeArdo (Love the grades? Hate the grades? Let him know on Twitter.)
Baltimore 28-3 over Cleveland
Ravens-Browns grades by John Breech (Love the grades? Hate the grades? Let him know on Twitter.)
Denver 31-28 Chicago
Broncos-Bears grades by John Breech (Love the grades? Hate the grades? Let him know on Twitter.)
Tennessee 27-3 over Cincinnati
Bengals-Titans grades by John Breech (Love the grades? Hate the grades? Let him know on Twitter.)
L.A. Rams 29-23 over Indianapolis (OT)
Rams-Colts grades by John Breech (Love the grades? Hate the grades? Let him know on Twitter.)
Minnesota 21-13 over Carolina
Vikings-Panthers grades by John Breech (Love the grades? Hate the grades? Let him know on Twitter.)
Houston 30-6 over Pittsburgh
Steelers-Texans grades by John Breech (Love the grades? Hate the grades? Let him know on Twitter.)
Tampa Bay 26-9 over New Orleans
Buccaneers-Saints grades by John Breech (Love the grades? Hate the grades? Let him know on Twitter.)
Buffalo 48-20 over Miami
Dolphins-Bills grades by Tyler Sullivan (Love the grades? Hate the grades? Let him know on Twitter.)
Philadelphia 34-31 over Washington (OT)
Commanders-Eagles grades by Jeff Kerr (Love the grades? Hate the grades? Let him know on Twitter.)
Dallas 38-3 over New England
Patriots-Cowboys grades by Garrett Podell (Love the grades? Hate the grades? Let him know on Twitter.)
L.A. Chargers 24-17 over Las Vegas
Raiders-Chargers grades by John Breech (Love the grades? Hate the grades? Let him know on Twitter.)
San Francisco 35-16 over Arizona
Cardinals-49ers grades by John Breech (Love the grades? Hate the grades? Let him know on Twitter.)
Detroit 34-20 over Green Bay (Thursday)
Lions-Packers grades by John Breech (Love the grades? Hate the grades? Let him know on Twitter.)