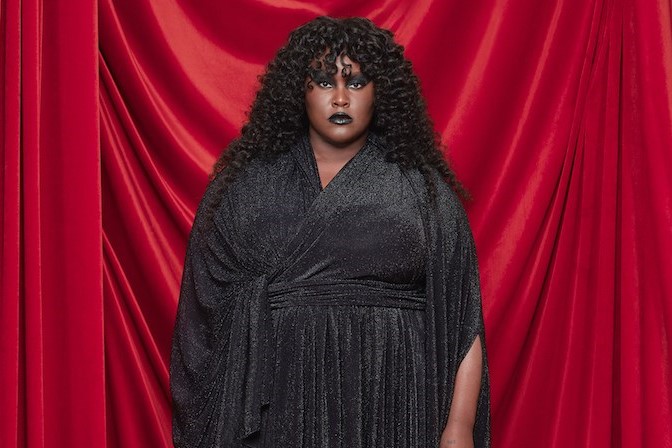 The French pop star joined fellow curve girl Paloma Elsesser, nightlife legend Amanda Lepore, and Demna's mum at the house's stellar
SS24 show
The terminology used to describe models whose bodies are larger than sample size is a contentious topic. For clarity, Yseult refers to herself as plus-size and so in this article, we have respected her choice and followed suit.
It's been a long time coming, but this morning at his stellar SS24 Balenciaga show, Demna finally sent curve models down the runway. The designer's casting has always been major, with his awkward, stony-faced weirdos changing the shape of the industry, but until now, the outliers he enlisted to storm his catwalk never extended to anyone with a bit of meat on their bones. Changing that today, among others, was Yseult. 
The French musician has already notched up a few fashion show appearances across the last couple of years, having worked with Casey Cadwallader at Mugler and just yesterday starred in Sarah Burton's McQueen swansong show. On the catwalk  today, she joined a blockbuster cast including fellow curve girl Paloma Elsesser, revered New York Times critic Cathy Horyn, Paris fashion icon Diane Pernet, legendary club kid Amanda Lepore, members of his team, and Demna's own mum, who opened the show in a blown-up blazer and slouchy wide-legged trousers. Backstage, the designer explained he had been inspired by the people around him every day and their unique style and personality.
Dialling in from a taxi dashing across Paris between appointments a few days ahead of her big Balenciaga gig, Yseult is understandably thrilled Demna has finally cast "a big girl". The move on his part is the result of a long-standing friendship founded when the musician slid into his DMs and suggested a collaboration. Demna quickly answered and the two went out to dinner, where they talked "about fashion, about my body, about my experiences", she explains. Soon after, he made her a series of custom looks for gigs and appearances, and invited her to a bunch of his shows. 
The runway itself was the next logical step. Demna has always pushed the envelope and largely set the tone for fashion across the last decade, so to  bring a plus-size model – which is how Yseult refers to herself – into the Balenciaga fold when many houses are turning their backs on diverse bodies after a brief dalliance with including them feels pretty natural. Not to mention that, despite sticking only to standard sizing across its collections, Balenciaga is a go-to for bigger women in fashion, with Demna's outsized, XXL tailoring, roomy hoodies, and swishing, bias-cut dresses catering to a vast swathe of people who can't fit into clothes crafted by most luxury labels.
Stepping out today in a floor-sweeping black gown with ecclesiastical sleeves, with her signature afro, Yseult tells me she can't quite believe she got here. During our conversation, she talks about how difficult it was growing up without anyone like her to look up to in fashion or the wider media, and explains that while walking, she'll be thinking of those who came before her: from Paloma, Alva Claire, and Jill Kortleve, who made history as the first curve girls to walk a Versace show in 2020, to Mugler and Gaultier icon Stella Ellis. 
Her work doesn't end there though. Now with an appearance at one of the world's biggest couture houses under her belt, she's ready for total fashion domination, and plans to keep crusading for better representation and accessibility within the industry. There's also talk of a collaboration with a major luxury house. One thing is clear: Yseult is just getting started. Here, we speak to her about her stint as a Balenciaga girl, her fave supermodels, and the brands she'd love to walk for in the future. 
Hey Yseult! First of all, I'd love to ask you, when you first got into fashion and understood its power?
Yseult: I always loved fashion, for me it's a way that I can express myself. As a singer I can write, I can sing, I can dance, I can create some visuals as a way to express what I want to share with the world and for me, fashion is the same. Fashion is art, and fashion is a way for me to be vulnerable and to be strong at the same time. You know, sometimes you can see my shape, you can see my skin, and it makes me feel very vulnerable for me to show my body. I do the same with my music: I like to be vulnerable and I like to be strong sometimes.
How did you dress when you were in high school?
Yseult: In high school, it was very complicated – it was hard because I was obese and I'm still obese. But back then I didn't embrace myself like I do now. It's still sometimes difficult because I compare myself with the world, but the difference is when I was in high school there was no representation like there is now. Today, you can see me on the McQueen runway and the Balenciaga runway, and women like me working in fashion, but when I was young it wasn't like that – on the runway, on TV, I didn't see a fat girl like me, or even a fat boy, or many women of colour. 
"I have the chance to represent some beautiful designers and houses, because I have access to have custom made pieces, but in the real world, I would not be able to wear them or to have a beautiful dress in my size" – Yseult
What does it mean to you to be working with big houses like McQueen and Balenciaga now? 
Yseult: It's amazing but it's complicated, you know? I have the chance to represent some beautiful designers and houses, because I have access to have custom made pieces, but in the real world, I would not be able to wear them or to have a beautiful dress in my size.
How did you come to walk for Balenciaga? What led to this moment? 
Yseult: The story with Balenciaga, it's very funny. I wrote to Demna and said "Hey, I'm sorry to bother you but I was wondering if we can create something together" – I love his stuff but because I am a plus-size girl I couldn't wear much of it. He came back and was like "Yeah of course, let's collaborate on something!". Demna and I had a beautiful dinner and I was able to share my experiences – we talked about fashion, we talked about my body, we talked about the specifics of what I wanted, like right down to needing a decent bra, and we started discussing the concept, and then soon after he started dressing me in some custom looks, and I started attending the show each season. And then finally, they put me on the runway.
So tell me about that moment: what will you be thinking about when you walk the Balenciaga catwalk? 
Yseult: I'm going to be thinking about all the people that came before me, and I'm going to thank god and be grateful for all those women who paved the way, like Precious [Lee], Ashley Graham… Being the first plus-size woman to walk Balenciaga for me is huge, but I won't forget the people who did the work. The fight [has been] very difficult, so I'm going to think about that and enjoy the moment – even if I feel nervous, I really want to be present for this moment. When I walk I don't want to be anywhere else, so I need to be focused, to be present in the moment, and to be grateful about that.
How do you feel about body diversity in fashion right now? Around three years ago, it seemed like it was getting so much better, but now it feels like it's going backwards a bit – so you walking for Balenciaga is a great moment.
Yseult: I told Demna in an interview that the most important thing is to listen to minorities because no one wants to hear us, so now they are starting to hear our voice. The second step is representation – so to see [body diversity] in culture, TV, runways, everywhere. I think the next step is to create a [bridge] between the public and the designer – right now, when I want to express my voice in fashion it feels inaccessible. We need to bring fashion to the people, like to the real people.
Even in terms of sizes, fashion is not accessible for [curve people]. I can afford a dress in a luxury house, but I can only afford it if I know the designer. It's going to be heated if I am in Cannes and I want a beautiful luxury dress in the shop, and I have the money to buy it, but I can't buy it because it's not my size – it is not accessible. For ten years I didn't buy anything because I was so scared, like I don't feel confident in shops because they don't have sizes for me, it's crazy. So, I think because it's going to be my second battle for accessibility – I want to create a capsule collection with a brand and to have bigger sizes because it's possible, and everyone knows it's possible.
"Being the first plus-size woman to walk Balenciaga for me is huge, but I won't forget the people who did the work" – Yseult
It is possible! Do you think Balenciaga wanted to cast curve models sooner and didn't know how? Did you have this conversation with Demna or the team?
Yseult:I had this conversation with Demna and the team, and they are excited about it. They are excited about the vision, and I think it could be interesting to think about a collaboration and to show the world what's possible. Demna is very open-minded, and I think the steps that we are doing right now – me on the runway walking for Demna for Balenciaga – it's major for real. It's a big step for me.
I really have hope because way back before when I started to [ask] to have custom dresses in my size, it was complicated! And look today, I am collaborating with Balenciaga, I collaborated with Mugler, I collaborated with McQueen – I did the last campaign twice. I collaborated with Balmain. Five years ago, it felt impossible, but yes girl it's possible. It was difficult, but less difficult than the people who paved the way, so that's why every time I'm working, I think: "It's tough but not tough like the way it was before." I am so proud of everyone because I know that I'm not alone, and so that's why I am grateful for all these women who work hard every day. 
What's one piece of fashion history or a fashion holy grail that you would love to own?
Yseult: It's McQueen – I don't remember the year, but it was the moment a naked girl with a mask walked down the runway. He really created a gate between fashion and new technology. It's so cool, so avant garde. I am so jealous because I was like, "Oh my god, if I was older and was there, I would have loved to walk for the show" – to have this big girl, naked, on the runway.
Who's your favourite supermodel?
Yseult: Naomi Campbell and Kate Moss. But, in my head I was like maybe Naomi Campbell and Precious [Lee].
Who are your style icons?
Yseult: Zendaya – every time, she serves a look. There's no no-no, it's all yes. Perfect at all points. Every time. 
And what are your fashion week essentials?
Yseult: I am going to be an LA girl because I went to LA for two months, and so right now I'm in the taxi with my green juice, so I am going to say a green, fresh juice. 
What's next for you? Is there another dream runway that you want to walk after now that you've got McQueen and Balenciaga under your belt?
Yseult: I have four, so Chanel – [it's] a big French house, and I am a French artist, so it makes sense. Also, I think it's time to do something for the plus-size girls because we're waiting for them. I also think about Yves Saint Laurent, because for me it could be major to wear Yves Saint Laurent – I want to feel like rock star in Yves Saint Laurent, like let's go. Also Celine because I want to be dark – I want to be this Parisian girl with the black sunglasses. The last one: Bottega [Veneta]. It's a beautiful house, and I really love the vision – the last show, all the pieces were amazing.