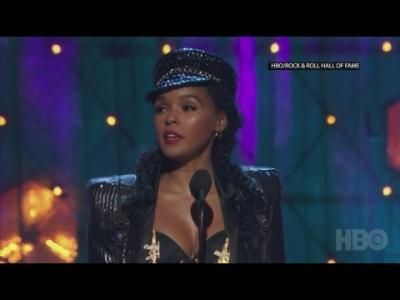 Janet Jackson, Stevie Nicks inducted into Rock and Roll Hall of Fame
Stevie Nicks became the first woman inducted twice into the Rock and Roll Hall of Fame, with Janet Jackson being the latest member of the Jackson clan to enter the hall (March 30)
AP
She's an ethereal rock goddess.
The high priestess of magical mystery lore.
And now Stevie Nicks is also a Barbie.
On Monday, the plastic likeness of Nicks will be unveiled at the Mattel Shop as a Barbie Music Collector doll. The $55 mini-Stevie is clad in a "Rumours"-era flowing black dress and cape, black platform heel boots and clutches a tambourine adorned with streamers. It somehow also manages to translate Nicks' alluring gaze.
Nicks' enthusiasm about being represented in iconic figurine form is charming as the Fleetwood Mac maven, 75, talks with us about the doll that has her "soul," her emotional reaction to the "Barbie" movie and how she misses Christine McVie.
More: 'Barbie' review: Margot Robbie, Ryan Gosling dazzle in hilariously heady toy story
Question: How did you react when you heard Mattel wanted to make you a Barbie?
Answer: Honestly, I tend to think all the women in the world would love to have a Barbie made of them, but they know that isn't going to happen. When I found out, I was really catapulted back to when the first Barbies came out in 1959 and my mom bought me a Barbie. She collected dolls forever and I came into Fleetwood Mac a doll collector. When I saw Margot Robbie standing in that bathing suit (in the "Barbie" movie), I was like, that's my doll. All these years, that's exactly who I wanted to be and look like – Margot Robbie in a bathing suit and high heels with my hair on my head.
How much creative input did you have? Because they really nailed not just your clothes, but your stare.
Mattel gave me a lot of platform to be creative and I jumped right on that platform. I said, "I'll send you my original "Rumours" outfit, which is packed away, and we'll dig it out and I'm going to get out the boots from the Italian shoemaker who is amazing and made all of my boots until he passed away." And I sent it off to Mattel.
It really became your iconic look with "Rumours."
I saw this whole outfit in Santa Monica in 1973. Lindsey (Buckingham) and I were on the road as Buckingham Nicks with Leon Russell at the Civic (Auditorium) and I was standing against the wall and this woman walked by me and she was in my outfit! That was her outfit: A blushy pink color handkerchief skirt, her hair was kind of tucked up in a Gibson (Girl hairstyle) and she walked by me and I said, THAT IS IT! My new outfit.
When I joined Fleetwood Mac in 1975, we went on the road with just my street clothes. I was incredibly poor and was a very thin 105 pounds. We didn't eat a lot because we were so poor. But on the road, I gained 15 pounds in a month. When we got back from the tour I found a designer, Margi Kent, and I drew a stick figure of the girl with the handkerchief skirt and those platform boots. She made it in silk chiffon and I said to her, "Margi, I want to wear this when I'm 60 because I know I'll be on stage when I'm 60," even though I'd been in Fleetwood Mac all of eight months, and she said, "OK" and I went back in a week and by the time we did "Rumours" I had my beautiful black outfit. Margi still makes all of my street clothes.
What do Stevie Nicks' street clothes look like? I don't picture you going to a restaurant in jeans and a baseball cap.
(Laughs) Oh, even they have to have a certain flair. She makes me really beautiful tops with crystal rhinestones. I never dress casually when I go out. I'm always somewhat in my Stevie world because I like it. People say why do you always wear black? Well, because it's slimming and sexy and sophisticated.
So back to Barbie for a minute. What did you think of the movie?
I. Loved. It. Because we couldn't go to a (public) theater because of COVID, we rented a theater for my band and crew and I sat next to Waddy (Wachtel), our awesome guitarist I've known since 1971. We went to one of those theaters with the recliners so I saw "Barbie" with Waddy – the New Yorker and the California girl next to each other – and every time I'd shed a tear, he did too. Every time I would laugh, he did too. We're both Gemini and we were both on the same emotional plane watching it together. When it was over, I said, "You know what, Waddy? I wouldn't want to watch this with anyone but you." Watching Barbie and her struggles and coming into a real person … he and I could totally relate to that together. I had to come home and tell my Stevie doll all about it. I told her we'd get my press agent to give Margot Barbie – that's what I call Margot Robbie – a call.
Did you have to do much retooling of your doll?
When Mattel first sent her to me, I told them her eyebrows are a little too arched and my eye makeup, if you go back to the '70s, it was very Twiggy with lots of eyelashes and that doe-eyed look. So I said you need to raise that dark eyeshadow above the fold in her eye and that will fix it. And I said we need to see a little bit of teeth. And then when I got her on June 22, I opened her up and I went, "She's just perfect." This little Barbie is so precious and they helped her have my soul. If nobody else in the world got her but me, I'd almost be OK with that.
Speaking of precious things, I saw you in concert with Billy Joel earlier this summer and you were obviously emotional when you dedicated "Landslide" to Christine McVie. Has it gotten any easier to sing that song?
No, it's not getting easier, but I have to keep singing it until it is easier because it's helping me work through this. Seeing the way the audience reaches out and being able to discuss losing somebody like that, it keeps her alive in my heart. It's like when I hear Taylor's (Swift) "You're on Your Own, Kid" – that's who me and Chris were in Fleetwood Mac. We always were on our own. And now she's sitting on my shoulder saying, you're on your own, kid, but I'm always right here.
More: 'Barbie' album is the kind of stellar original soundtrack we haven't heard in years