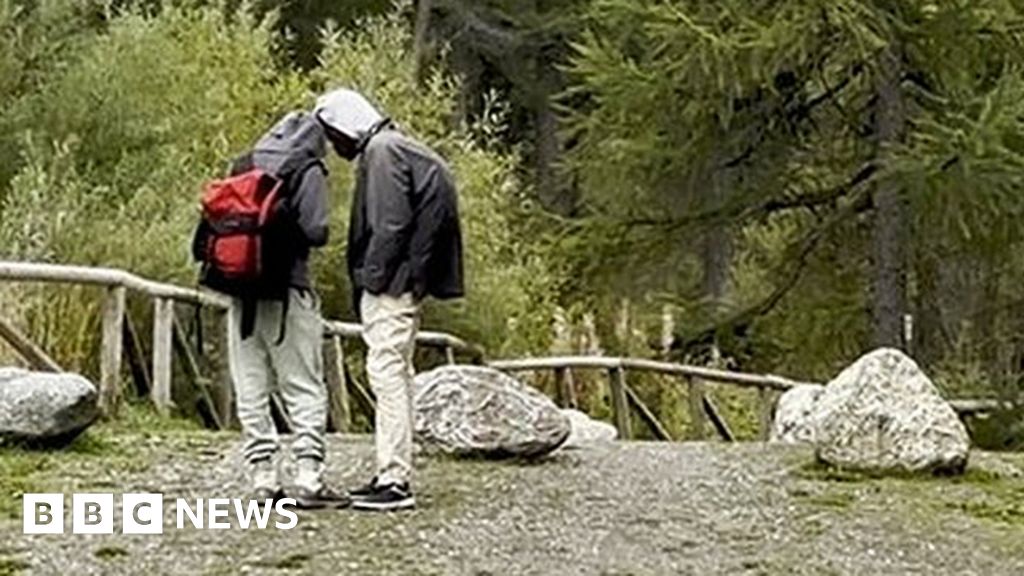 By Mark Lowen
BBC Rome correspondent, Italy-France border
In a corner of the Italian Alps, a queue of Sudanese and Afghans are swapping their sandals for hiking boots and replacing flip-flops with sturdy trainers, preparing, they hope, for their trek to freedom.
They are today's arrivals – around 150 – at a makeshift camp in the picturesque town of Oulx manned by local volunteers. They give out donated coats to the migrants to help them survive the mountain temperatures on the arduous journey ahead.
For even here, having reached Italy from across Africa and the Middle East, these groups of mostly young men want to go on to France and beyond. More than 130,000 migrants have entered Italy this year – almost double the same period in 2021, following a surge of arrivals by boat to the southern Italian island of Lampedusa.
Numbers travelling north to the border with France have doubled in the past few months. But France's authorities are detaining and pushing back undocumented migrants, having reintroduced controls on its border with Italy, suspending parts of the Schengen free movement regulations.
The European Court of Justice recently ruled that the pushbacks breach EU law and that migrants detained should be subject to an official return decision, adding that forced removal should only be "a last resort."
One of those trying to make the journey to France is Omar, from Nigeria, who spent months in Libya before paying smugglers the equivalent of $800 (£660) to make the perilous crossing across the Mediterranean to Lampedusa.
From there, he was moved to two camps elsewhere in Italy, before managing, he says, to get out and walk to the French border. Now his aim is to reach the UK. "I just want to have a good life and study there," he tells me, his foot bandaged from an injury at sea.
I ask whether he's seen pictures or heard stories of economic migrants being refused asylum in France or the UK and being sent back. He has, he says, but even if he meets the same fate, he will try again.
"If I have to return to Nigeria, my parents will be so sad, because their dreams didn't become true," he adds.
Some fail early. We watch as an Italian police car drives an Egyptian migrant back to the makeshift camp, caught before he could make the crossing.
But the checks on this side of the border are rare, with volunteer Elena telling me she's only seen it happen two or three times in the couple of months she's been there.
So are the Italian police turning a blind eye, I ask?
"They know exactly what we're doing here, they know exactly what these people are here for, so it's like a game somehow," she says. "They know, but they pretend not to know."
I put it to her that some would see her work as encouraging illegal migration. Just last week, the Italian Prime Minister Giorgia Meloni hit out at Germany's government for funding NGOs that help migrants around Italy, denouncing them as "a pull factor."
"I don't care," Elena says. "If you see somebody who needs something, and you know the risks in the mountains, can you allow people to walk like this? This is the responsibility of all of Europe."
After a short bus ride to the town of Claviere, the migrants reach the border. But, fearing police, most avoid the road up to the official crossing. Instead, they scatter into the forest, hiding and waiting to dash across the mountains, away from prying eyes. Shrouded in mist, and with temperatures dropping fast, the perilous rocky paths have already claimed several lives.
Others search for alternative routes, four hours' drive south in the Italian coastal city of Ventimiglia, close to Nice.
Here, migrants camp out at the station, trying their luck on a cross-border train. But France's controls are stringent; we accompany French police who stop every train arriving from Italy, asking for identity papers from passengers and even checking toilets for stowaways.
In one carriage, a handful of Africans are caught without documents, led off to be sent back across the border to Italy, from where they will almost certainly try again.
The rapid rise in migrant arrivals here is infuriating Ventimiglia's mayor, Flavio di Muro, from the far-right Lega party. He hits out at France's suspension of the Schengen free movement zone on this border, which has facilitated the checks and pushbacks.
"The EU is not working," he laments. "Each country is setting its own migration limits and Italy has to shoulder the burden alone. I've put armed guards in the cemetery because migrants were entering to spit on graves, urinate and vandalise the bathrooms," he claims.
"We've reached our limit. We could become the Lampedusa of the north."
On the Alpine border in Claviere, the temperature is dropping fast as autumn wears on. At night, groups of migrants huddle together under the shelter of the church, some lighting a fire to help pass the hours until their attempt to cross the mountains undetected.
Red Cross workers come to distribute food and water – one telling me of migrants they found who needed their fingers amputated after catching frostbite.
Amid the forests of the Alps and the railways of Ventimiglia, a new bottleneck in Europe is emerging. And whatever the continent's leaders seem to do, the determination of the desperate is proving impossible to quash.