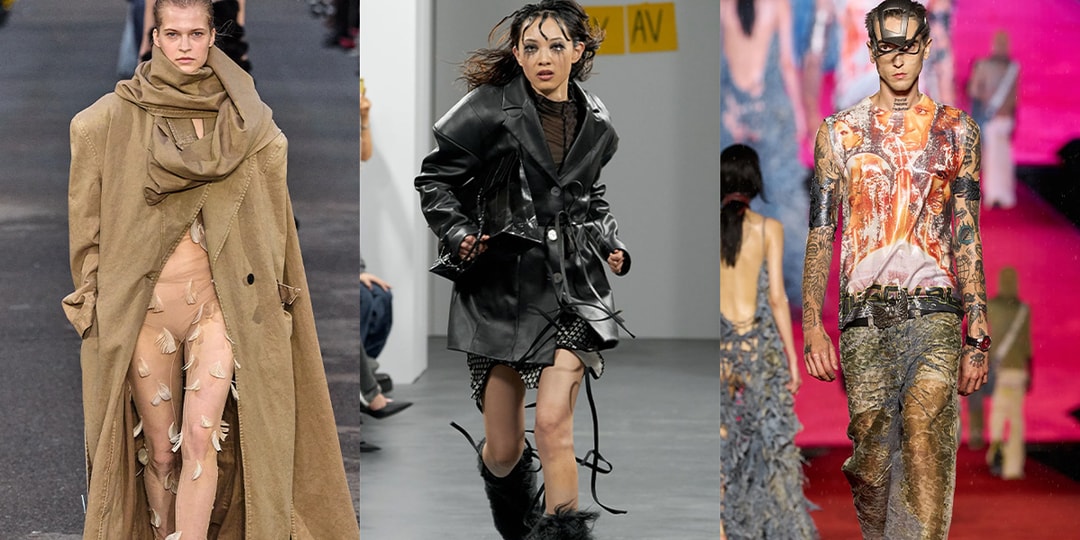 Milan Fashion Week Spring/Summer 2024 was a treat for the senses. From Matthieu Blazy's Bottega Veneta to Sabato De Sarno's Gucci debut, designers were unafraid to stand out, blessing the schedule with interactive, immersive runways that got viewers involved like never before.
The highly-anticipated SS24 season was striking and bold, seeing several brands deliver a new approach to classic runway shows. Shows were fun and exciting, allowing everyone to experience the magic. Glenn Martens' Diesel closed out the first day of Milan Fashion Week, raffling tickets to the public for a chance to attend.
Over 5,000 people surrounded Diesel's 150-foot runway, seeing heavy Italian rain pour on animated attendees. The brand left tradition behind, hosting a denim-filled techno rave defined by jumbo-sized screens, thumping beats, and 73 looks. The rebellious collection was shredded and destroyed, featuring discolored denim, minced fabrics, and silver-painted models. A Bella Hadid look-alike closed the show, leaving viewers in premature awe.
SUNNEI, founded by Simone Rizzo and Loris Messina in 2015, also opted for a hands-on approach. The eight-year-old brand has become synonymous with humorous runway concepts, throwing a crowd-surfing rock 'n roll concert last season. For SS24, SUNNEI hosted a fashion judging panel and distributed numbered paddles to award every look. The collection supplied athletic and casual attire ideal for any occasion – while the audience left with beaming smiles, proving that engagement overrules all.
BOSS wrapped day three of Milan Fashion Week with nothing short of a spectacle, welcoming us into the future hosted by Hanson Robotics' Sophia the robot. While the business-ready collection saw BOSS at its best, the futuristic showcase was a first for the brand. Mico Milano was conquered by glass containers with real actors inside, imitating robotic movements that were undoubtedly convincing. Guests could speak with Sophia at reception, greet her at the door, or sit beside her front row, making for an otherworldly experience taken from the future.
Gilda Ambrosio and Giorgia Tordini staged their first runway at Milan Fashion Week, seeing THE ATTICO take over Milanese streets with cushioned sofas. Surrounding neighbors sat by their windows for a peek of the show, solidifying THE ATTICO's underground concept. The cinematic display was heartwarming and relaxed, debuting a compelling collection grounded in fearless silhouettes. Faux fur and leather reigned supreme, enveloping wrap-around coats and structured blazers. The rebellious offering walked on genderless lines, featuring animalistic zebra prints and sequinned embellishments.
Beate Karlsson's AVAVAV bid attendees farewell with a humorous showcase that left them in tears. Karlsson has become renowned for viral runways that open AVAVAV's universe, seeing SS24 ignite in chaos. Models ran down the runway with no time to waste, being pushed by staff in a rush. It reflected the industry's unrealistic expectations, seeing incomplete garments blasted with hints. Bare-chested models secured outfits in motion while others stomped in shapeless foam looks. Punctured caps were made into face masks to conceal the wearer's identity, accessorized with detailed eyewear and mascara-smudged tears.
Milan's SS24 season proved that playful concepts are alive and well, bringing everyone together for a good time. Paris Fashion Week is up next — only time will tell if designers will follow in their footsteps.