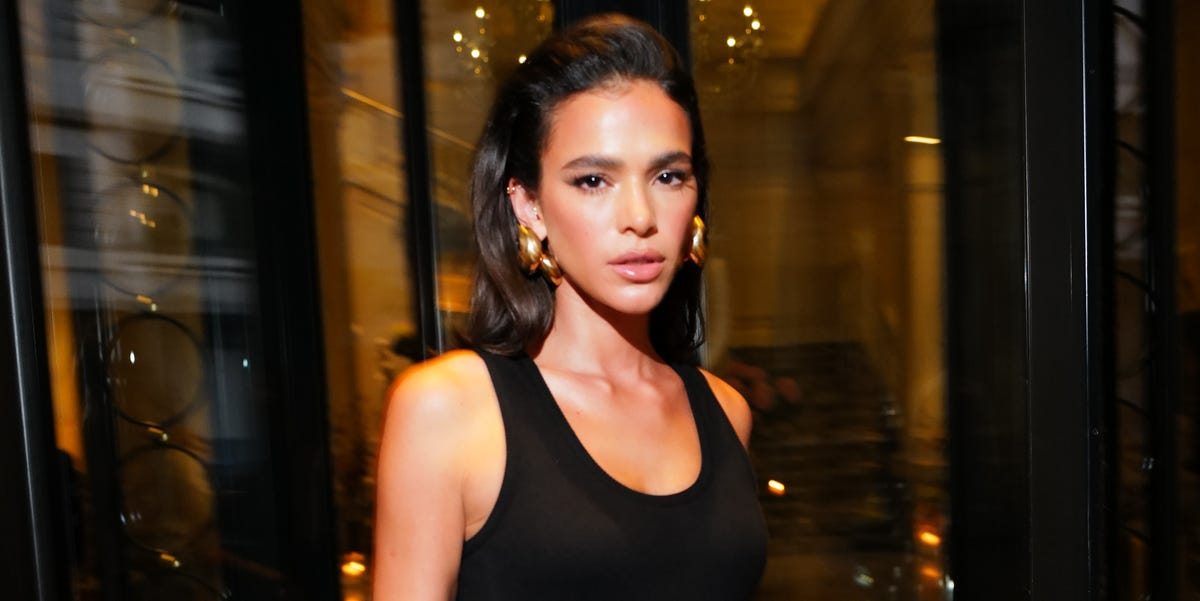 By the time I catch up with her, Bruna Marquezine has been in Milan for just a little over a day—but, naturally, she's already on the go. The 28-year-old actor and Brazilian household name has had a stunning year. She debuted her star prowess to the world with her first major international role in DC's Blue Beetle, which, upon its release last month, also introduced the first Latino superhero in the comic publisher's cinematic universe. Of course, there's also the matter of Fashion Month, of which she has become something like a regular.
"I've been here for a day, I want to say?" she tells me over Zoom, only semi-uncertainly. "Fashion Week is just so crazy. A lot happens, so I have no idea which day is today," she jokes.
At that point, it's about 24 hours before Bottega Veneta's Spring/Summer 2024 show, where she will join the likes of Erykah Badu and Julianne Moore to sit on the runway's hallowed front row.
Ahead of the spectacle, she met with the team at Bottega and her stylist Dani Michelle to fine-tune the final details of her outfit. The centerpiece? A slick leather midi skirt awash in a moody moss green. "From the first time I saw this leather skirt, I was obsessed with it," Marquezine says. Describing its structured basque waist, she notes, "It looks like a heart."
Though the original skirt that appeared on the Fall/Winter 2023 runway was styled with a matching leather turtleneck, Marquezine wanted to add "a little twist." This meant swapping the turtleneck for a ribbed black tank; paired with the voluminous waist detailing, it made Marquezine look like a black bud rising out of a flower's sepals. It also coordinated with the rest of her ensemble's black elements, like glossy knee-high boots with a metallic gold block heel and a black woven clutch with a golden clasp. For good measure, she topped off the entire look with sculptural twisted gold earrings. She opted for a fresh, neutral look for her glam, with a slicked back hairstyle courtesy of Jenny Cho and fresh dewy skin painted by Nikki Wolff.
Under Matthieu Blazy's expert hands, Bottega's ability to meld tradition and technology is something that stands out to Marquezine, who specifically cites the house's mind-boggling denim and plaid-printed leather pieces from last year's runway. "They're really classic, but they have this crazy technology," she says. "I've been a big fan of the brand for a long time now, so it's definitely a moment that we're all really excited about."
When it comes to curating her look for a major event, Marquezine refers to the collaborative environment that her team cultivates during the creative process. "I do have a lot of references, and I like to take my time to think about the look, but most of the time, it's also how I feel," she says. "If I feel safe, if I feel comfortable, if I feel confident. And I love opportunities like Fashion Week because you can go a little bit bigger, a bit crazier. It's a lot of fun."
It's a sentiment that happens to coincide with her own style evolution.
"When I started working with fashion, I was trying everything and seeing different versions of myself," she says. "I love a big special moment. I love to attend a show and work on a look and then go bigger, crazier, and just [put on] something that I wouldn't wear back home in my everyday life. But I think now I'm just into more classic, basic stuff. That feels more … I don't know the word in English for that. What is intemporal in English, do you know?" she asks offhandedly to someone on her team, who responds indecipherably. She turns back to our conversation. "That feels timeless. I think that's the word."
She affirms, "I'm into pieces that I can wear for the rest of my life."
Digital Associate Editor
As an associate editor at HarpersBAZAAR.com, Chelsey keeps a finger on the pulse on all things celeb news. She also writes on social movements, connecting with activists leading the fight on workers' rights, climate justice, and more. Offline, she's probably spending too much time on TikTok, rewatching Emma (the 2020 version, of course), or buying yet another corset.