Google is killing off so many products lately we need to do a roundup or we won't get anything else done today. First on the docket is the inevitable death of Google Podcasts. We've been side-eying Google Podcasts ever since Google's new podcast platform, YouTube Podcasts, launched in April. YouTube has been slowly consuming all of Google's media properties, and podcasts completes the trinity along with videos (both amateur and scripted Hollywood content) and music.
Google does not need two podcast apps, so Google Podcasts must die. This was announced on the official YouTube blog, if there was any question about the responsible party. Google Podcasts is getting shut down "later in 2024," but before that, we'll see an expansion of YouTube podcasts, which is currently only available in the US. YouTube says its podcast platform (which is built into the YouTube Music app) will be out "globally" before the end of the year.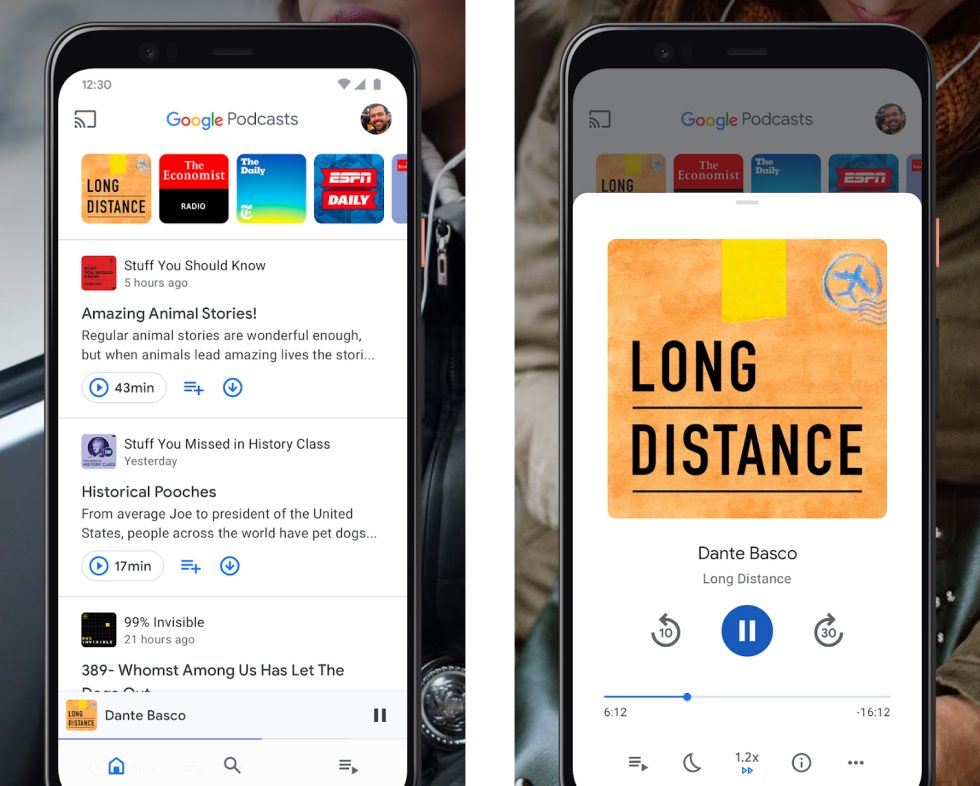 Google Podcasts was Google's third podcasting service, after the Google Reader-powered Google Listen (2009–2012) and Google Play Music Podcasts (2016–2020). Google Podcasts technically started in 2016 as a bizarre podcast player that was only accessible via a mobile Google Search. Searching for a podcast in the Google app would show a play button next to episode search results, but there was no way to subscribe to a podcast. Android Google Podcasts finally got podcast-defining subscription support a whopping two years later, but you couldn't really call the service viable until an iOS app finally launched in 2020.
In 2024, Google Podcasts will die at 8 years old, if you want to count from the weird Google Search beginnings, but only has had the bare minimum feature set of a podcast service for four years. With a startup procedure like that, it's no wonder that Google Podcasts isn't very popular, with YouTube saying, "According to Edison, about 23% of weekly podcast users in the US say YouTube is their most frequently used service, versus just 4% for Google Podcasts."
YouTube Premium Lite heads into the darkness
Staying with Team YouTube, the next door Google's Grim Reaper is knocking on belongs to YouTube Premium Lite. While YouTube Premium gives you access to ad-free YouTube and YouTube Music, the "Lite" version was a Europe-only budget plan that cut down the feature set to only ad-free YouTube videos. The cost was 6.99 euros/month, a decent discount over the then-11.99 euros per month price. If you've never heard of this, that's because it got a very small rollout to only Belgium, Denmark, Finland, Luxembourg, the Netherlands, Norway, and Sweden.
You can throw this shutdown into the pile of "Google price increases" this year. Regular YouTube Premium jumped in price to $13.99/13.24 euros in July, and shutting down the lower tier is a way to raise the price for everyone else. Current YouTube Premium Lite subscribers all got emails saying their current subscriptions will end on October 25, 2023, and if they want to keep seeing ad-free YouTube, it's time to pay full price.
Gmail's "Basic HTML" client gets archived
Gmail's basic HTML view in 2023. I remember this!


Ron Amadeo

The very old compose screen.


Ron Amadeo

The mobile version, showing the navigation drawer (left) and the inbox.


Ron Amadeo

Google's message to admins.


Ron Amadeo
Now serving ticket #003: Gmail's basic HTML view! The default Gmail web client is so complex and heavy that it didn't always play nice with the world's browsers. To ensure Gmail remained accessible to everyone, a much simpler "basic HTML" Gmail client has been around for almost as long as Gmail itself. If there was ever a problem loading the default client, you'd be booted into basic HTML mode as an escape hatch.
The days of browser compatibility concerns are apparently over, as basic HTML Gmail is dying in early January 2024. Google sent a notice to many Workspace administrators (this author included) last week.
Basic HTML Gmail has managed to dodge every single Gmail redesign over the years, so today, it serves as a wonderful time capsule showing what email was like before Google's designers became obsessed with JavaScript and white space. It's also missing an uncountable number of features that have been developed over the years, like label colors, offline support, encrypted email, and scheduled sending. Even the "tips" at the bottom haven't been updated. I got a message to "try in your phone's browser!" That's the Gmail mobile website, not the app, and it is recommended to use unencrypted "http."
The desktop version is still alive here, while the mobile version is at this link. The mobile version feels like it was built for the original iPhone, back when web apps were the only way to exist on the phone, and the App Store was just a twinkle in Steve Jobs' eye. Mobile hilariously still has an option to see mail "From your circles"—that's your long-defunct Google+ friends list—and for me, it showed a bunch of mail from 2017.
According to Chrome's network tracker, today, full-fat Gmail loads about 14.4MB (a lot of this gets cached for future visits), while the basic HTML version is an impossibly svelte 143KB. Today, you can probably overshoot that with a single JavaScript framework!
There's some concern out there about what this means for accessibility. The basic HTML version is popular with visually impaired users due to its compatibility with screen readers. To Google's credit, its email to admins included a link to a giant document detailing how well Current Gmail works with screen readers. Email being email, there's also always the option of loading up a third-party client instead.