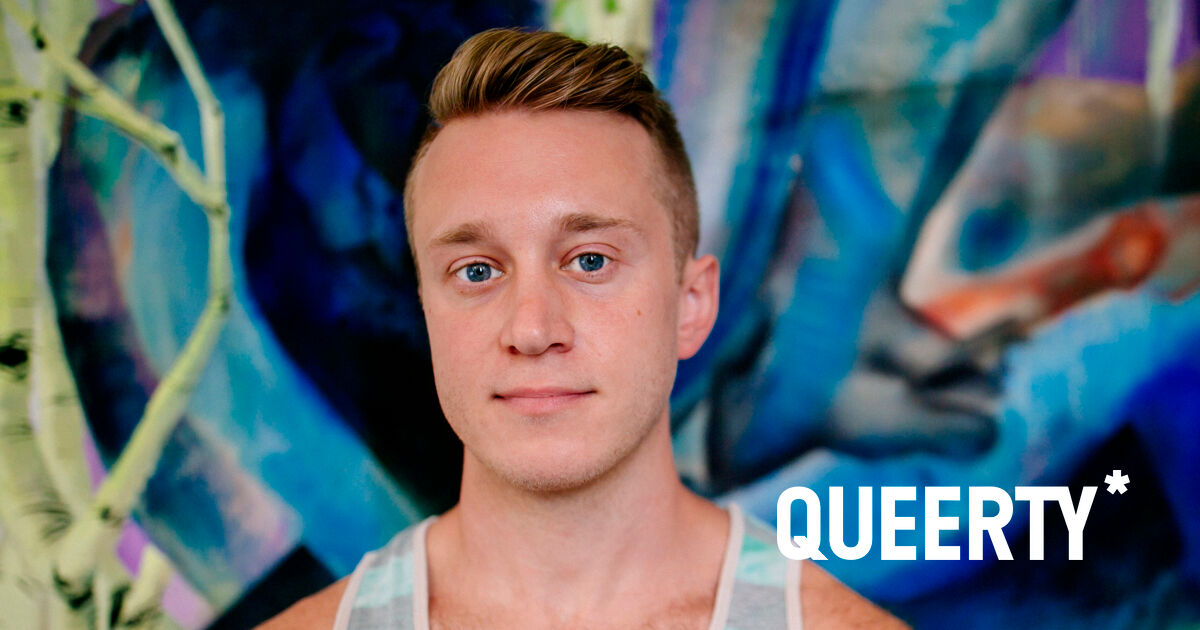 Not everyone can say they've literally written the book on one of their heroes. But Evan Turk can—and he drew it, too!
Turk is a Southern California-based author, animator, and artist, whose work includes a number of picture books aimed at younger readers. His latest, To See Clearly, is a beautifully illustrated biography of David Hockney, who made a name for himself in the '60s with the Pop Art movement and is recognized as one of Western culture's first openly gay artists.
In awe of Hockney's distinctive style and the way queerness subtly (and sometimes not-so-subtly) informed his art, Turk felt compelled to tell the influential artist's story in picture-book form, sharing his unique and vibrant point-of-view with people of all ages.
Immersing himself in Hockney's story, Turk found himself amazed by his subject's ability to break boundaries and defy easy categorization. In fact, it's what encouraged him to further pursue his own passions as an artist, and soon Turk was creating eye-catching original pieces under the pseudonym J. Carino.
Whereas Turk's books and illustrations were always meant for all audiences, the work of J. Carino is decidedly more mature—sensual, provocative, and unabashedly queer—frequently centered on colorful abstractions of the nude male form.
In a fantastic coincidence, his new J. Carino solo exhibition—inspired by David Hockney in myriad ways—opens in Los Angeles the same week that his book To See Clearly hits shelves. Speaking with Queerty, Turk opens up about balancing his two artistic alter egos, why Hockney's life story is one worth sharing, and the unfortunate "double standard" that LGBTQ+ professionals are often held to.
The following interview has been edited and condensed for clarity.
QUEERTY: Your newest picture book biography, To See Clearly, is all about the great gay artist David Hockney. When do you first remember encountering Hockney's work in your own life?
TURK: The first time that I really understood what he was doing as an artist was a showing at The Met in New York in 2017 and it was this huge retrospective of his. A lot of artists don't live as long as he has lived, and in as many different time periods as he has, and tried as many different things as he did, so it was amazing being able to see the breadth of what he was able to accomplish as an artist, while also considering this is a gay painter featured at The Met. Seeing all of these people turn up for his work was really inspiring because there aren't a lot of out gay artists with that kind of worldwide [notoriety.]
That's interesting because, you know, he'll have paintings that aren't necessarily explicit, but very gay—naked guys hanging out together, things like that. And it's just funny seeing all the stuffy people at The Met having to directly deal with something like that. It feels kind of revenge or retribution for all of the heteronormativity that's been the focus of art history for the past few thousand years.
Has your understanding of his work and appreciation of him as an artist changed as you've come into your own as an artist and queer person?
Something I talk about in the book is how he's always trying new things, and I think that's something that's really inspiring as an artist—just that you don't have to only be one thing, you don't have to put yourself in a box, and you can kind of explore and grow and change as people do.
I [previously] did a picture book biography of the artist Ben Shahn called The People's Painter, and then I was working on this book a little bit later as that one was coming out, so doing two back-to-back biographies of painters made me want to push myself a little bit more. I started venturing more into the fine art world about four years ago, and these projects were a big impetus for that. It really inspired me to be like, "Okay, I don't have to just be an illustrator—I can be other things, too."

Anyone can appreciate the love and work you've put into To See Clearly, but this is a picture book aimed at younger readers. Why is Hockney's story one you feel is important to share with a younger generation?
One of the reasons I love his work so much is that it really can speak to all different kinds of people, all ages. What I tried to get across in the text of the book is that it's just about the joy of being alive, and how to enjoy looking at the world and being a part of the world. That really comes across in his work, and that's a lesson that kids can really understand.
I talk about art with kids and lot, and usually it's the adults who are like, "Oh, I don't know if kids are going to understand that; I don't know if they're going to pick up on that." But these kids pick up on it instantaneously—they understand without having to be told.
And so that's what's interesting about Hockney's work: it's so vibrant and colorful and it's approachable. And I think it also is just a good philosophy for what an artist can be. Using art as a tool to understand the world—which is how I tried to approach it in the book—is something that kids will hopefully be able to pick up and see. Art isn't about just making good painting, it's about trying to understand things. And I think that's an important lesson for kids and adults.
Of course, book bannings are nothing new, but it's notable that your Hockney book is coming out at a time when we're seeing elected officials make a stink about so-called "grooming" and are attempting to take anything about the LGBTQ+ community out of schools entirely. What do you make of the situation? Have you encountered any pushback to your work in children's books?
The situation right now is pretty ridiculous with authors and illustrators being targeted. You know, I haven't received any pushback; it hasn't come out yet, so we'll see. But, for me, it was really important to address his queerness or gayness—I don't know how he would describe it necessarily. I think there's no reason that it can't be addressed; in the same way that if a painter like Picasso made a lot of paintings about the women in his life—that he was mistreating, by the way—you would have to talk about the fact that he was in relationships with them. It was part of his work.
I won't mention names, but there was a children's book about another very prominent gay artist that came out a few years ago, and it was someone who talked about his gayness in his work, but it wasn't mentioned anywhere in the book or in the back matter with the rest of the biography. And it couldn't feel like anything but an intentional decision to have omitted it.
So when I was thinking about who I might want to write a book on, I was like, "I don't want someone to do a book about David Hockney and edit out that part out of his life," because I think it's really an important part of who he is, and why he's why he's so well known. His work was so groundbreaking at the time because of it.
Earlier you mentioned not wanting to box yourself in as an artist, which I think is a perfect segue into talking about balancing you career as an author/illustrator with your more adult-oriented art under the name J. Carino. At what point did you begin to delineate between the two and why?
That was kind of an evolving process. It started in 2019 and was just something where I was wanting to create artwork that wasn't for a client, that I was just doing for myself—even though children's books can be that, like I came up with the idea for this David Hockney book and created myself. It was about having something that wasn't accountable to anyone else.
The name comes from my mom's side of the family, which is Jaccarino, and she and both her parents have all been artists, so it felt nice to connect with that.
Starting to do this other work—which I was doing anonymously at the time—was very liberating, to be able to draw whatever I wanted, and not have it feel like anything was weighing down on me. So there was a lot of compartmentalization in a way that allowed me to have more freedom. And then as I kept doing, it started drawing a bit of an audience, and I was enjoying it more, and getting more opportunities, and starting to take it more seriously, myself. As it's grown, it's been something that I've become really passionate about doing. And it's become 50/50 with my illustration work.
It was always really intentional for me to keep it separate because, even before all of the [anti-LGBTQ+] stuff that's been happening more recently, there's still just always a weird double standard for any gay person that works with children, you know? They have to officially compartmentalize and make sure that there's no discussion of a personal life. So that was very much on my mind, though as my painting work has grown, I've grown more comfortable with attaching myself to it, I guess.
It took me a couple of years to ever put a photo of myself up with the name J. Carino. But as I kept doing both, there was a point where I was tired of having to hide a little bit, because a lot of what I do in my painting work is about being open and free. Even working on To See Clearly was about that idea of being comfortable with who you are and, after a certain point, it was kind of like, "Well, I can only be who I authentically am, right?" So… we'll see where that goes!
Beyond the Hockney book, you also have a new solo exhibition as J. Carino, "Frontiers And Boundaries," coming up at Sow & Tailor in Los Angeles. What do the pieces in this collection represent to you at this point in your career?
Yeah, this is a really exciting opportunity for me. So, my husband and I moved to Riverside, California about three years ago, which is not too far from LA. It's been a really interesting process coming out here, being somewhere new, and trying to find where I fit in this new place.
Really, it's just an extension on some of the things that we've been talking about: As queer people, we're told we're not natural, or that who we are goes against nature. And nature is something that's been important to me since I was a kid growing up in Colorado, just surrounded by the mountains. I went out to school in New York City—which is something that a lot of gay people do: they find the biggest city with the most gay people to go to—and that was an important part of growing up and coming out, too. But I also realized that I was distancing myself from that idea that nature is a part of who I am. So, by combining ideas of sensuality and queerness and nature, it feels like I'm pulling these different pieces of myself back together a little bit.
And that comes full circle to David Hockney, who did a number of landscapes pieces over the decades, which certainly feel like an artist reckoning with his place in the world as a queer person.
Yeah! I think that his landscapes were the things that I first fell in love with of his work—even before I knew that he was gay and hadn't seen any of his gay paintings. So that exploration of the landscape is something that's a big part of the way that I see the world. And I like doing it in a way that allows me to connect with myself as a gay person, too.
This show will be really exciting for me. It'll be my first solo show in LA, which is exciting since California is my new home. And it's a great gallery! So I think it'll just be a really exciting experience.
The J. Carino solo exhibition "Frontiers And Boundaries" runs from September 23 – October 28 at Sow & Tailor in Los Angeles, California. You can find more information about the gallery here.
To See Clearly: A Portrait Of David Hockney—written and illustrated by Evan Turk—is available September 19 via Abrams Books For Yound Readers. You can find more information here.