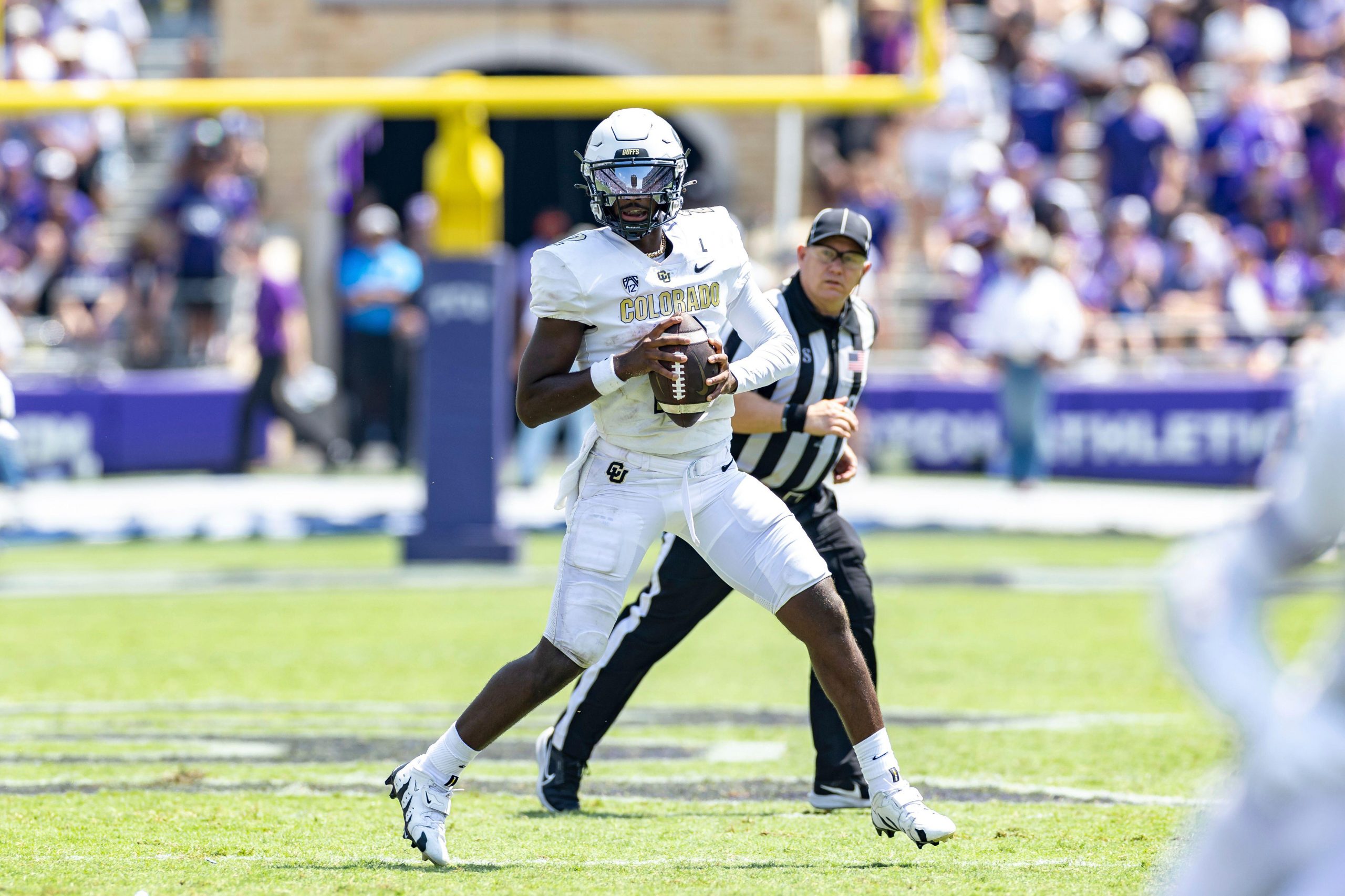 • Colorado QB Shedeur Sanders is the biggest riser: With Colorado sitting at 3-0 behind Sanders' elite play, he is now the No. 44 player on PFF's big board.
• Michigan QB J.J. McCarthy rises to No. 42: He has improved his play under pressure through three games and looks like one of the best quarterbacks in college football.
• Houston OT Patrick Paul soars into top 50: In just three games this season, Paul looks like a different player. His flexibility in his stance is much better — lower to the ground with a wider, more powerful base.
Estimated Reading Time: 6 minutes
---
We're three weeks into the 2023 college football season (four, if you count Week 0). There is plenty of college football left to play before we dig into final film evaluations, but we wanted to do some re-checks on the preseason 2024 big board and update a few players who have already shown they are outplaying their previous ranks.
These are the eight biggest risers through the early part of the season.


---
S TYLER NUBIN, MINNESOTA
Previous Rank: 37
Current Rank: 26
Nubin started the season pretty high on the big board, coming in at No. 37 initially. The fifth-year senior was entering his third season as a starter for the Gophers, and all that experience made him one of the most versatile safeties in the class — one with excellent anticipation and recognition. That showed up very early when he tallied two interceptions in the first game. His coverage profile has been excellent to start the year.
---
QB J.J. McCARTHY, MICHIGAN
Previous Rank: 64
Current Rank: 42
McCarthy, who has a ton of arm talent, started the season lower on this list due to his poor play under pressure. He earned just a 44.0 passing grade under pressure in 2022 with one big-time throw and seven turnover-worthy plays. On film, you could see his internal clock just wasn't right, nor was his feel for pressure around him.
Though he hasn't played the toughest of competition yet in 2023, he looks much improved in that area. So far, he has a 62.9 passing grade under pressure with two big-time throws and two turnover-worthy plays. His game against Bowling Green was his worst outing, but that doesn't totally take away from the near-perfect performances we saw in Weeks 1 and 2. Overall, he's earned an elite 91.4 passing grade with a handful of impressive "Sunday throws" already out there for scouts to see.
---
QB SHEDEUR SANDERS, COLORADO
Previous Rank: 118
Current Rank: 44
Sanders was impressive at Jackson State, but the world was waiting to see whether his skill set would translate to the Power Five. Well, it didn't translate. It has evolved and exceeded all expectations.
Three weeks into the college football season, Sanders' 93.3 passing grade is the best mark in the FBS (minimum of 100 dropbacks). He also ranks fourth in the FBS in passing grade under pressure (80.4). He has made seven big-time throws to just three turnover-worthy plays, all while recording an 81.4% adjusted completion percentage. The biggest concern with him coming into the season was whether his arm was truly NFL-caliber. He's looked more impressive in that area in 2023, especially with his velocity up to 30-40 yards downfield. He may have to put more effort into tight-window throws, but he does so with anticipation and accuracy. For that, he's put himself in the first-round conversation.
---
OT PATRICK PAUL, HOUSTON
Previous Rank: 108
Current Rank: 50
Paul was my favorite early rewatch so far. When scouting the 6-foot-7 left tackle for Houston this summer, I saw a guy with great length for the position, light feet and a knack for staying in front of pass rushers. But I also felt like that last part was more just due to his size than his technique. I was also worried about his balance and center of gravity; as a taller player, his hips were high in his pre-snap stance, and post-snap he looked hunched over and top-heavy, especially when taking on contact.
In just three games this season, Paul looks like a different player. His flexibility in his stance is much better — lower to the ground with a wider, more powerful base. Although his hand placement isn't perfect, it is much improved from a year ago. Plus, he doesn't look top-heavy anymore. When he engages with defensive linemen, you can see he's more upright, generating much more power and balance through his lower body all the way through his chest and arms. Throw in his elite 95.4 pass-blocking grade, and you've got a recipe for a major riser. 
---
EDGE PRINCELY UMANMIELEN, FLORIDA
Previous Rank: 77
Current Rank: 59
It was hard not to love Umanmielen's finesse pass-rush game coming into the season. In 2022, he posted a 15.3% pass-rush win rate thanks to some good speed attacking the outside shoulder and a nice inside counter move. But I was worried about the lack of power in his profile.
This year, he looks stronger. Florida now lists him at 255 pounds, up from 245 in 2022. He still has that speed game to attack either shoulder but also looks more confident in his bull rush. He's elevated his pass-rush win percentage to 24.0% through three games. 
---
S JADEN HICKS, WASHINGTON STATE
Previous Rank: 124
Current Rank: 84
I was very excited to see Hicks play in 2023. In his own words, he was overwhelmed during his first year on campus with the Cougars. But as a redshirt freshman the following year, he not only looked like he belonged, but he became a leader of that defense. That improvement had the potential to spark an even bigger leap in 2023.
Thus far, Hicks has earned a 90.1 grade in coverage with one interception, another that was dropped and four forced incompletions. He is seeing the field and anticipating so well, and the ball production is there because of it. 
---
WR JALEN McMILLAN, WASHINGTON
Previous Rank: 106
Current Rank: 85
Admittedly, McMillan was likely lost in the shuffle of a really good wide receiver group when we evaluated more than 25 of them in the preseason. The 6-foot-1, 190-pound receiver recorded more than 1,000 receiving yards in 2022 and has topped 300 yards in three games so far this season.
McMillan might not be a "wow" type of athlete, but he's so smooth with his routes and how he finds space, and he is a very confident receiver when the ball comes his way. He understands how to consistently win at the position.
---
QB SPENCER RATTLER, SOUTH CAROLINA
Previous Rank: 115
Current Rank: 93
When you say the name "Spencer Rattler," it comes with preconceived opinions. The former five-star recruit was supposed to be what Caleb Williams is right now under Lincoln Riley, but we all know it didn't work out that way. If you haven't paid close attention, you might have missed how Rattler has improved from the start of 2022 to now, especially through his first three games of 2023.
Rattler finished 2022 with a 29.0 passing grade under pressure, but this year, despite playing behind a poor offensive line once again at South Carolina, he's faring much better with a 71.2 grade. His turnover-worthy play percentage both with and without pressure is the lowest of his career. His poise is much improved, and the arm talent is still there. He is still continuing to improve his consistency, though. His 80.6% adjusted completion rate is also a career best. Rattler is moving in the right direction.