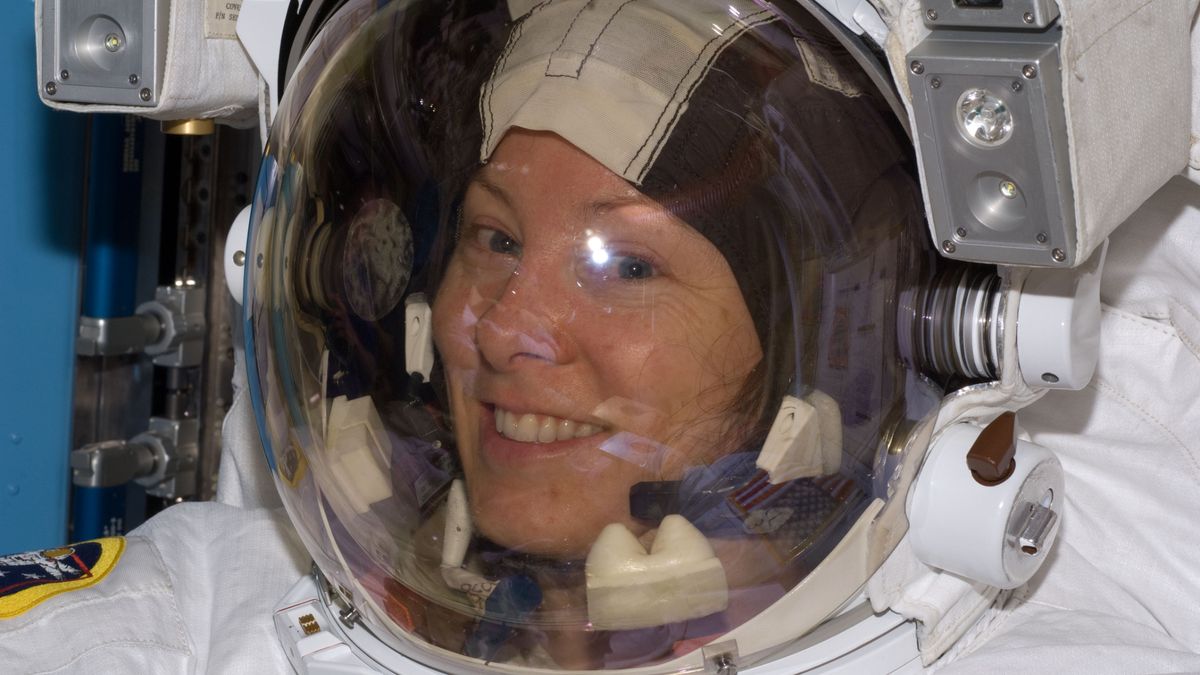 NASA astronaut Tracy Caldwell Dyson will make her third trip to orbit aboard a Russian spacecraft in 2024, joining previously announced Russian and Belarussian crew members.
Tracy Dyson will be assigned to the MS-25 Soyuz spacecraft mission scheduled to launch to the International Space Station (ISS) in March 2024 for a six-month mission, NASA announced on Friday (Sept. 15). Accompanying Dyson will be Roscosmos cosmonaut Oleg Novitskiy and Belarus spaceflight participant Marina Vasilevskaya, each of whom will spend 12 days in orbit.
Dyson will return to Earth in fall 2024 with Roscosmos cosmonauts Oleg Kononenko and Nikolai Chub on MS-25; the duo just launched to space Sept. 15 with NASA astronaut Loral O'Hara aboard Soyuz MS-24. Novitskiy and Vasilevskaya will return home in spring 2024 with O'Hara following the NASA astronaut's six-month mission, while Kononenko and Chub will spend about a year in space before their return flight.
Related: 'It's been an incredible challenge:' NASA astronaut tells all on setting new record for longest US spaceflight (video) 
NASA flies its astronauts aboard Soyuz hardware under an agreement with Roscosmos renewed in July 2022, which also allowed Russians aboard NASA-funded commercial crew vehicles for the first time. The agreement provides for no-cost seat exchanges between the space agencies.
"Flying integrated crews ensures there are appropriately trained crew members on board the station for essential maintenance and spacewalks," NASA officials said in an emailed statement at the time. "It also protects against contingencies such as a problem with any crew spacecraft, serious crew medical issues or an emergency aboard the station that requires a crew and the vehicle they are assigned to return to Earth sooner than planned."
Dyson's Expedition 70/71 mission will be her third space excursion. The chemist by training has spent 188 days in space, starting with a 12-day excursion on space shuttle mission Endeavour's STS-118 mission in 2007, then 174 days as flight engineer for Expedition 23/24 in 2010. She also performed three contingency spacewalks (unplanned spacewalks necessary for vital repairs) in 2010 to repair a failed pump module for an external coolant system, and made the first American Sign Language address from space.
Novitskiy has already been to space three times for Expeditions 33/34, Expeditions 50/51 and Expeditions 64/65, accumulating 531 days in orbit. He also acted in the Russian space film "The Challenge," which was shot on the ISS with film director Klim Shipenko and star Yulia Peresil during their short space expedition in 2021.
Vasilevskaya, who is a flight attendant, was assigned to MS-25 in May alongside Kononenko, according to a report from Russian state media outlet TASS, citing space agency Roscosmos. She will be the first Belarussian in space following the selection of the first astronaut class announced in December 2022, according to Belarus media reports.
Belarus is a close ally of Russia, including in the latter's internationally condemned invasion of Ukraine that commenced in February 2022 and is still ongoing. Belarus (an authoritarian republic that borders Ukraine) has been independent of Russia since the collapse of the Soviet Union in 1991, but maintains close "political and economic ties" with Russia, according to the Central Intelligence Agency World Factbook.
NASA has maintained the ISS relationship with Russia under U.S. government policy advice, but most other international Russian space partnerships are no more. Prominent examples include the European Space Agency pivoting away from Russia with its ExoMars mission, Russian-made rocket engines not being sold to American companies, and Russian-built Soyuz rockets no longer launching with French launch provider Arianespace.