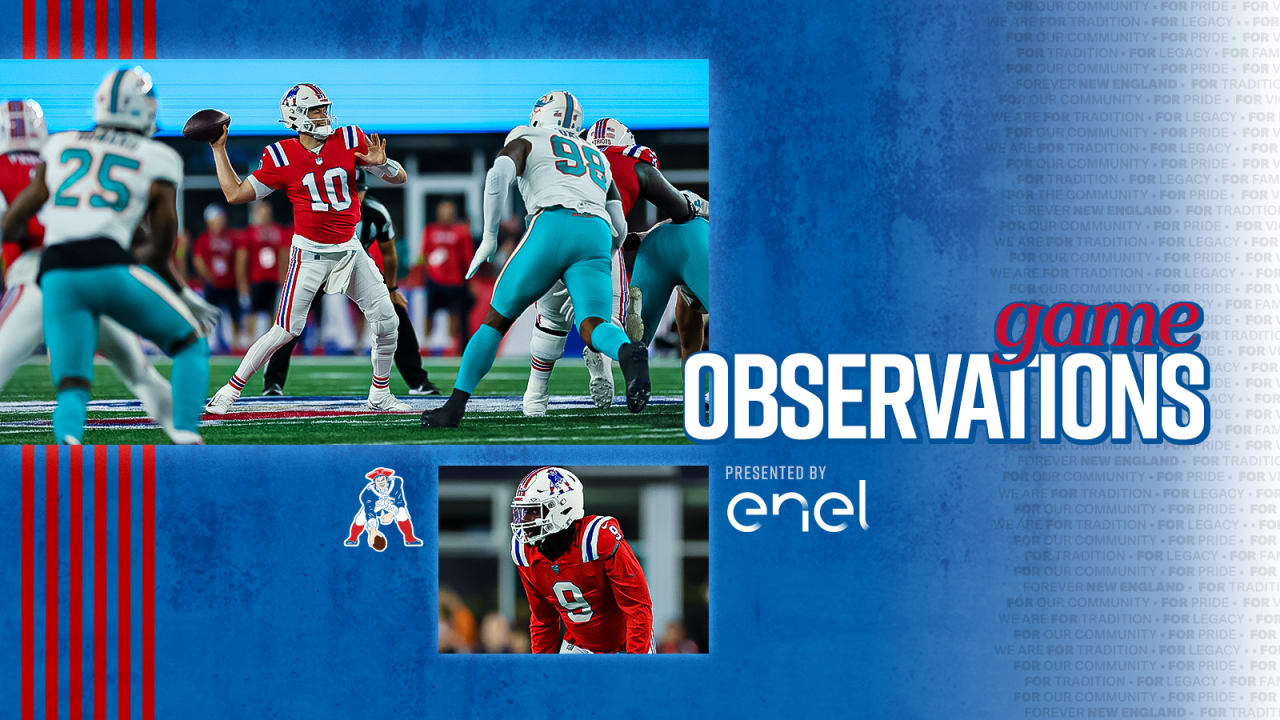 "[Joe] Judge, [Joe] Houston, and Cam [Achord] dialed up a really good scheme for that block and saw a weak point on their field goal operation. We worked it during the week and felt pretty confident about it going into the game. Just had the right opportunity, counted out my steps properly, and just timed it up well. As soon as the ball was snapped, I felt myself and the momentum carrying. I knew I was going to get there. I just wanted to make sure I got a hand on the ball."
"I had never seen it ever before. It was new for me, and I think it was new for a lot of guys on the team. Like I said, we trusted our coaches, and we are going to go out there and compete," Schooler said, breaking down the play for reporters.
Following a disappointing year in 2022, the Patriots overhauled the kicking game by drafting two rookie specialists and moving Judge back into a special teams role. Although it wasn't enough to win this week, the early returns have been positive for the revamped operation.
2. Patriots Offense Continues to be at a Talent Disadvantage at the Playmaker Positions
At some point, the Patriots must determine the main reasons for their offensive struggles since the second half of quarterback Mac Jones's rookie campaign.
They're now on their third coordinator with Jones under center. Although we can all agree that last year's offensive setup wasn't the answer, offensive coordinator Bill O'Brien is searching for consistent execution from this group, much like the past two OCs before him.
The Patriots enter nearly every game at a disadvantage when it comes to roster talent on the offensive side of the ball, and that couldn't be more apparent on Sunday night. Tagovailoa is a really good quarterback, let's not get that twisted. Still, the reality is that Tua took the field this week with at least two receivers who are better than anyone Mac is throwing to these days, and the same could be said for Eagles quarterback Jalen Hurts last week.
Tyreek Hill and Jaylen Waddle are quarterback-proof playmakers who can generate explosive plays to make the quarterback's jobs easier. For example, Waddle's first explosive was a 28-yard screen pass on a throw behind the line of scrimmage, and when the deep safety's attention went to Hill, Waddle got the ball on a 32-yard completion into single coverage.
New England's offense, on the other hand, still has to grind out every yard and each point it puts on the scoreboard, even with O'Brien designing the offense. Chunk gains don't come easy to this group like they do for Miami, and it shows. I'm not here to tell you that the Pats quarterback would be an MVP candidate with a better supporting cast, but very few young signal-callers in that conversation are working with less.
3. Patriots Unveil Three-Deep Safety Defense in Chess Match vs. the Dolphins
As we mentioned off the top, the Patriots game plan defensively was to play a three-deep safety structure designed to disguise coverage to give the offense pause and keep the top on the defense to force the Dolphins to string plays together rather than hit on a few big-gainers. Obviously, with a quick-strike offense like Miami's, it makes sense to force them into matriculating the ball down the field rather than giving up points in one or two chunks.
From the Dolphins perspective, many of Miami's offensive players actually spoke after the game about how unique the Patriots defensive strategy was, saying they had never seen it before.
"Seemed as if they wanted to put an umbrella over our two fast guys. And then as the game progressed, they started to get back into what they normally would run. But I think they do a tremendous job with adjusting in-game. And, you know, that's really a big, big thing I would say for any Bill Belichick defense," Dolphins quarterback Tua Tagovailoa said.
The Patriots continued a three-game trend against these Dolphins where they played zone coverage on 71 percent of Miami's snaps, reducing their typical man coverage rate to limit explosive plays against challenging receivers to cover in man-to-man schemes. The Pats mixed in single-high safety coverages (16) and split-safety schemes (13) at a pretty even clip, spinning the three-safety dial into double-robber and Tampa-2 schemes.
Although it wasn't perfect, the defense held the explosive Dolphins offense to 24 points, with only seven second-half points, giving the Patriots a chance to make the game interesting. Unfortunately, it didn't go their way once again.
4. Without starting LT Trent Brown, Patriots Offensive Lines Woes Continue
After a rocky summer filled with injuries and uncertainty, it's not surprising to anyone at training camp daily that the offensive line play has been uneven. Although it was an admirable performance against a great defensive front, the film told a less favorable story about the offensive line play against Philly. Given the circumstances, it wasn't a total disaster, but it was far from good when you reviewed the tape from Week 1.
This week, the Dolphins started piling up quarterback pressures in the second half, with the Patriots in obvious passing situations as they tried to mount a comeback. Jones was under pressure on 14 of his 46 drop-backs, or 30.4%, per NextGen Stats, and was sacked four times. Obviously, you need to throw when you're down, so dropping back a combined 104 times in the first two weeks will invite pressure, with the defense pinning its ears back.
The pressures that weren't as troubling were an assignment-based error by second-year LG Cole Strange, who seemed to block down on the Dolphins first sack instead of picking up the second-level blitzer, and sacks allowed by backup LT Vederian Lowe, and backup guard Atonio Mafi. Those mental mistakes will happen when guys haven't been repping much together in O'Brien and O-Line coach Adrian Klemm's system. They'll get it fixed, while Brown will hopefully be back next week at left tackle, and Onwenu should be able to go wire-to-wire again soon.
However, right tackle continues to be a problematic spot with current starter Calvin Anderson struggling with his footwork and punch timing to block speed off the edge. Dolphins edge rusher Andrew Van Ginkel logged a sack and six quarterback pressures working against Anderson, who is not getting enough depth in his slides to protect his edge, leading to a short corner that Van Ginkel ran around several times on Sunday night.
With the team being overly reluctant to kick right guard Michael Onwenu outside, Anderson, who deserves some leeway as he works his way back from a severe illness that limited him all summer, is their best option at right tackle. This is what they have on the roster right now, opening them up to criticism for not using more resources on OT in the offseason.
If the current right tackle situation doesn't improve, the Patriots should aggressively pursue free-agent tackle La'el Collins, who the Bengals recently released.
5. Besides Getting the O-Line Rolling, How Can the Patriots Get Run-Game Going?
Although getting the O-Line in order would help, it's not the only reason the Patriots have produced only 164 rushing yards on 47 attempts through two weeks (3.5 average).
The one criticism of O'Brien in the first two contests is that the running game might have design flaws. New England has ditched the fullback for the second consecutive year to be a one-back running scheme out of either standard 11 personnel or two-tight end sets (12), which aren't really true "12" if Gesicki is in the game. Between lead-back Rhamondre Stevenson and Ezekiel Elliott, only seven of their 20 halfback runs came from under center. Long story short: the Patriots are trying to run from spread formations using RPOs with power backs that are better suited to run from under center (this is why I was holding out hope for Pierre Strong before the trade).
Along with mostly dialing up spread runs, Mac only had three pass attempts from under center this week, with a 10.9 percent play-action rate on Sunday night. From this perspective, the Pats haven't given themselves a chance to effectively run the ball because they're not leaning enough on under-center run/play-action sequencing to get it going.
Due to their offensive personnel, the Pats also don't have the option to go "big" with the fullback out of regular formations anymore, which was their way to get the offense back on track after a rocky stretch under McDaniels. Yes, playing from behind presents another issue, but Stevenson is arguably the Patriots best offensive player, while play-action is arguably their most effective way to pass the ball – it's on O'Brien to find a way to scheme it up better on the ground.
6. Patriots QB Mac Jones Flashes High-Level Playmaking in Loss to Miami
After last week's better performance in the box score, my film review was still pretty critical of Jones, who made too many unforced errors in the game against the Eagles for my liking.
We'll reserve judgment until seeing the tape, but Jones made some impressive plays on the move and while under pressure. According to NextGen, Jones was 7-of-10 for 58 yards and a touchdown while under pressure, with a 117.9 passer rating and an outstanding completion percentage over expectation of +22.4. Mac also completed 4-of-6 throws for 36 yards and a score when "on the run" moving outside the pocket, which he doesn't usually do well.
For example, Jones made a terrific throw while staring down the barrel to DeVante Parker, where he threw with excellent anticipation from a muddy pocket to hit Parker on an in-breaking route on third down. We've talked so much about Mac needing to throw from a solid base to have zip on the ball, but he used timing and enough velocity to get that one in there.