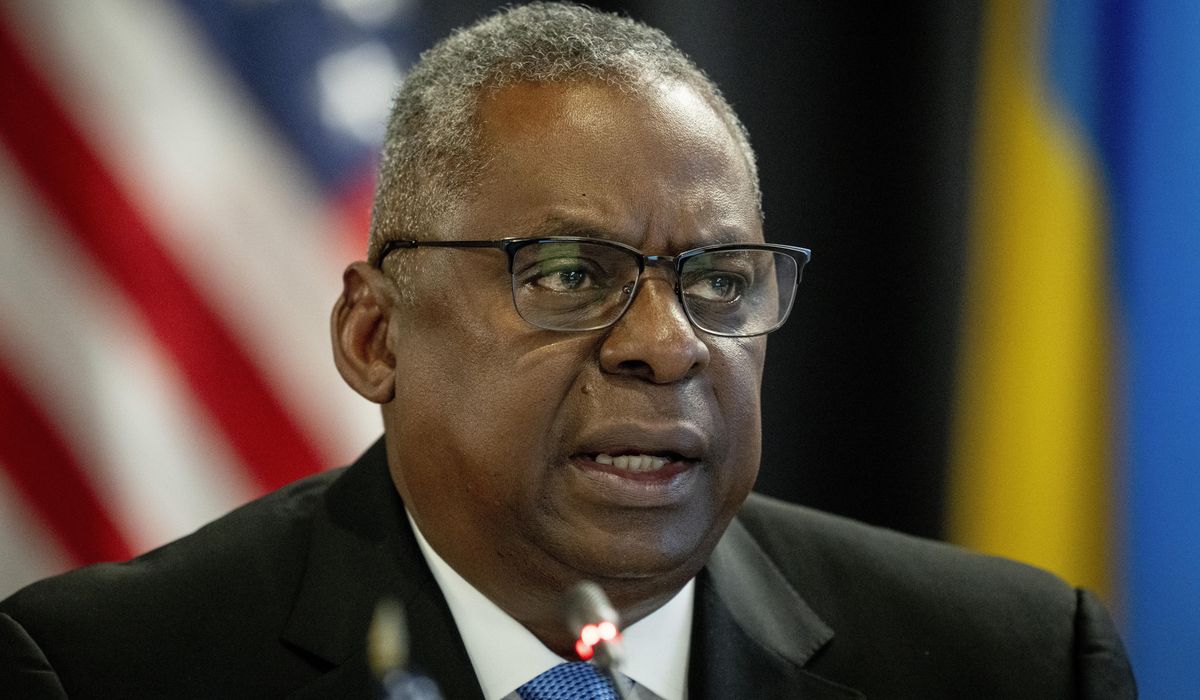 Defense Secretary Lloyd Austin insisted Tuesday that almost $45 billion in U.S. security assistance to Ukraine has been accounted for, a day after Kyiv dismissed all six of its deputy defense ministers as part of an anti-corruption purge.
"We're ensuring accountability of U.S. contributions through robust end-use monitoring," Mr. Austin said in his opening remarks to the 15th meeting of the Ukraine Defense Contract Group in Ramstein, Germany. "We'll continue to work closely with our Ukrainian partners to ensure that all assistance is used effectively and safeguarded."
Monday's shakeup of Ukrainian President Volodomyr Zelenskyy's Cabinet came ahead of his visit this week to Washington, where he hopes to reassure lawmakers on Capitol Hill that his government isn't wasting the billions of dollars in assistance provided by U.S. taxpayers.
---
---
Mr. Austin saluted Ukraine's now-former Defense Minister Oleksii Reznikov, whom Mr. Zelenskyy had sacked earlier this month as part of the ongoing purge that saw Monday's firing of his immediate subordinates.
"I want to start with a word of thanks to Oleksii Reznikov for his hard work and dedication, and for everything that he did for a free Ukraine in a secure world," the U.S. defense secretary said before greeting Mr. Reznikov's replacement, Crimean Tatar lawmaker Rustem Umerov.
"It's great to have you here. I thoroughly enjoyed our call a couple of days ago," Mr. Austin said. "I look forward to working with you and your team closely and I know that everyone else here does as well."
---
SEE ALSO: Zelenskyy purges more officials as fighting rages in east
---
Mr. Austin announced that M1 Abrams tanks promised to Ukraine would soon be arriving and confirmed reports that the U.S. would join the effort to host F-16 pilot training.
He also condemned Russia for targeting Ukraine's non-military infrastructure, such as port facilities and grain supplies. Moscow's attacks have destroyed about 280,000 tons of grain — enough to feed 10.5 million people for a year, he said.
"Russia's attacks continue to threaten global food security, and to risk needless humanitarian crises around the planet," Mr. Austin said.
Members of the Ukraine Defense Contract Group have been ramping up donations of vital air defense weapons like the Patriot missile, IRIS-T, HAWK and NASAMS.
"Those defensive systems will continue to protect Ukraine's critical infrastructure, including grain and energy supplies," Mr. Austin said, urging other countries to dig deep. "We must continue to push hard to provide Ukraine with the air defense systems and interceptors that it needs. Russia's attacks continue to threaten global food security, and to risk needless humanitarian crises around the planet."