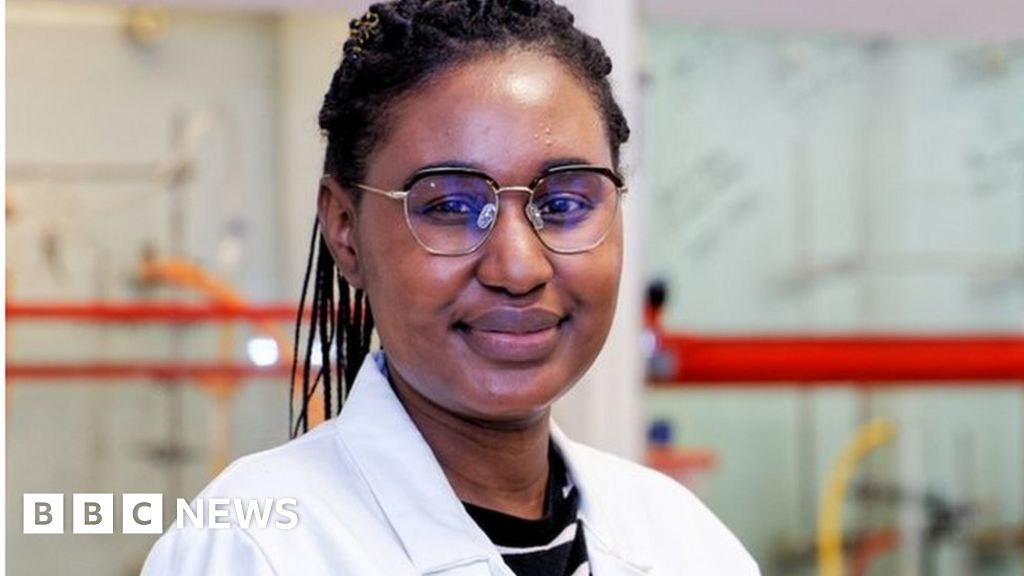 By Pallab Ghosh
Science correspondent
Young black scientists will get sizeable grants towards cutting-edge research in a pilot scheme aimed at increasing their numbers in the field.
Five scientists a year will get up to £690,000 spread over four years.
The Royal Society, which represents the UK's leading researchers, hopes its grants increase low numbers of black scientists, particularly in research.
The fellowships should allow the recipients to work in any of the country's research institutes.
It will also mentor the scientists and help with career networking.
Royal Society President Prof Sir Adrian Smith told BBC News that the low numbers of black scientists in the UK was "unacceptable".
Dr Mark Richards, who is one of the UK's very few senior black scientists, and who helped the Royal Society develop the scheme, said that although the number of fellowships is small, it is hoped that they will make a big difference.
"It will be five researchers each year who will be supported to establish their own research teams. And so the hope is that this will make a sustainable difference over time because these people will become role models and advocates for better representation," he said.
Dr Yolanda Ohene, an early career black physicist at the University of Manchester, welcomed the initiative.
"It is encouraging to see that the Royal Society is committed to supporting early career researchers of Black heritage," she said in written comments. "The transition from completing a PhD to having a permanent position at a university is difficult for everyone but the odds are particularly stacked against researchers from Black backgrounds."
Black scientists have told BBC News that they feel unsupported, overlooked for promotion, unfairly rejected for grant applications, and that they believe the UK research system is institutionally racist.
Wasted talent
The Royal Society said that if the fellowships are successful, the pilot may be broadened to researchers from other underrepresented groups.
"The Royal Society is concerned about the health of science in the UK. It depends on people and talent," said Prof Sir Adrian Smith. "And if there is clear evidence in the pipeline that talent is haemorrhaging, and we have the possibility of providing the practical support to remedy that, then it's our duty to do so."
Up to five fellowships will be awarded each year to scientists starting out in their research careers, who have recently completed their PhDs.
It is at this stage that figures by the Higher Education Statistics Agency analysed by the Royal Society show black researchers beginning to drop out. The higher up the career ladder they get, more drop out, with only a handful of black researchers becoming professors.
The data reveals that a greater proportion of black people are dropping out, at every stage of their scientific careers, than their white counterparts, whereas many other ethnic minority groups have lower dropout rates.
It found that 6.3% of black people who begin research drop out, compared with 3.8% of white students. For those who remain in science, 3.5% are made professors – compared with nearly 12% of their white counterparts. Overall, black people account for 1.7% of research staff – whereas they make up 3.4% of the UK population.
The data shows similar dropout patterns for Asian Bangladeshi students and scientists. While this may have different root causes, which need to be investigated, according to the Royal Society, this is one group that could be included in the scheme if the pilot is successful.
Dr Richards, who is a physicist at Imperial College, also addressed potential criticism of the scheme; that it is positive discrimination for individuals who would not get funding on the merits of their research.
"The question those critics should answer is why are there so few black scientists?" he said.
"The data shows that individuals that are good enough, in terms of their qualifications and abilities, do not progress as much or as fast as others.
"So this is some small way of helping to ensure that they can fulfil their potential, just like all the other scientists."
The Royal Society of Chemistry (RSC) began a support scheme last year to increase the number of black researchers in chemistry. The initiative was launched following an investigation by the RSC which concluded that racism was "pervasive" in the sector.
Sandile Mtetwa, who is a black PhD student at Cambridge University told BBC News at the time that the RSC's initiative would make a big difference to those thinking of leaving research.
"The chemical sciences community is so network driven. You have to know someone to get on," she told me.
"Someone senior has to support you, to help you get a position, to get a grant. If someone up there is not cheering for you, you can't do much about it."
Applicants for the Royal Society's fellowships will be able to submit their ideas for research projects in November.