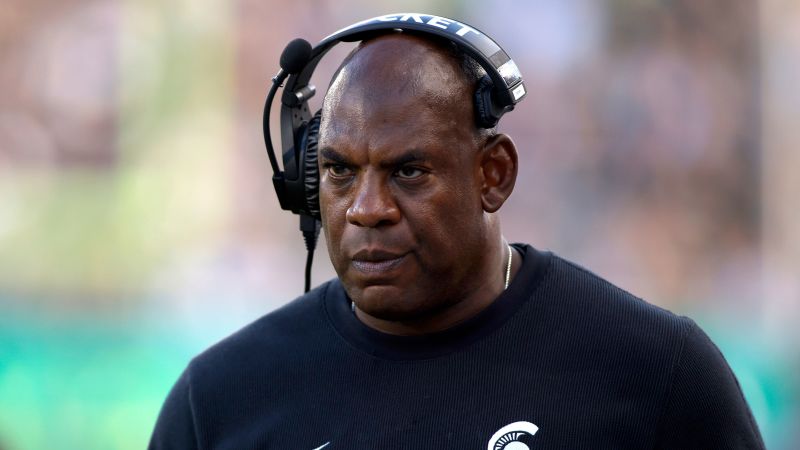 Al Goldis/AP
Michigan State athletic director Alan Haller has informed suspended football coach Mel Tucker he is being fired for cause for his alleged sexual misconduct towards a sexual violence advocate and survivor.


CNN
 — 

Michigan State University intends to fire head football coach Mel Tucker after the coach was accused of sexual harassment, the university announced Monday.
Earlier in September, the university suspended Tucker without pay after USA Today reported he was under investigation for alleged sexual harassment. Michigan State University's notice provides the coach seven days to provide reasons he should not be terminated.
"I, with the support of administration and board, have provided Mel Tucker with written notice of intent to terminate his contract for cause," the school's vice president and director of athletics Alan Haller said in a news release. "This notification process is required as part of his existing contract. The notice provides Tucker with seven calendar days to respond and present reasons to me and the interim president as to why he should not be terminated for cause."
CNN has reached out to Tucker's agent for comment.
The investigation into the coach's conduct began in December, Haller previously said at a news conference earlier this month.
The university released a copy of the notice they sent Tucker, along with a copy of his employment agreement signed in 2021 – which they claim he violated and admitted to violating during the investigation. The notice says Tucker "made unwelcome sexual advances towards" an activist contracted by the university to provide sexual misconduct education to the school's football team. Tucker "masturbated on a phone call without her consent," the document says.
"While the formal grievance process proceeds, the above-described undisputed facts provide multiple grounds for termination under the Agreement's Early Termination Provision," the notice to Tucker reads.
The notice claims Tucker admitted to making comments about the activist's body, made flirtatious comments, masturbated and made "sexually explicit comments" about himself and her while on a phone call with the activist.
The coach's behavior "constitutes a material breach" of his duties, "demonstrates 'conduct which constitutes moral turpitude,'" and "has brought 'public disrespect, contempt, or ridicule upon the University," all of which are grounds for his firing, according to the document.
"The unprofessional and unethical behavior is particularly egregious given that the Vendor at issue was contracted by the University for the sole purpose of educating student-athletes on, and preventing instances of, inappropriate sexual conduct," the document reads.
USA Today identified the activist as Brenda Tracy, a rape survivor and advocate who runs Set the Expectation, which provides education to athletes about sexual violence. She was raped by four college football players in 1998, according to her website.
Tracy reported her call with Tucker to the university's Title IX office, USA Today reported. "The idea that someone could know me and say they understand my trauma but then re-inflict that trauma on me is so disgusting to me, it's hard for me to even wrap my mind around it," Tracy told USA Today. "It's like he sought me out just to betray me."
In a statement obtained by CNN last week, Tucker called Tracy's allegations "completely false" and said the investigation into his conduct has "not been fair or unbiased." The coach, who is married, said in his statements that the sexual phone call with Tracy was mutual. "it was an entirely mutual, private event between two adults living at opposite ends of the country," he said.
CNN has not independently verified the details of the report.
The school is conducting an investigation into the incident in accordance with its "Relationship Violence and Sexual Misconduct" policy and Title IX.
An attorney for Tracy, Karen Truszkowski, said no police report was filed. She issued a statement on behalf of her client last week.
"Brenda Tracy had no intention of publicly disclosing her identity," the statement read. "She was and continues to be committed to complying with and concluding the MSU internal investigative process. She respected the process and chose not to go to the media to preserve the integrity of the process.
"After the investigation process was completed, we would have determined, what, if any further steps to take. Instead, her identity was disclosed without her knowledge or consent, warranting express actions to protect her. Her choice to allow this process to proceed privately was taken away."
Tucker, a longtime coach in college and the NFL over the past two decades, became Michigan State's head coach in 2020. In his second season, the team went a sterling 11-2, and he signed a massive 10-year, $95 million contract that made him one of the highest paid coaches in all of college football. Last year, though, the team finished a disappointing 5-7, including blowout losses to rivals Michigan and Ohio State.