Personal effects
|
Sustainability
(Image credit: Taylor Swift/ Folklore/ Republic)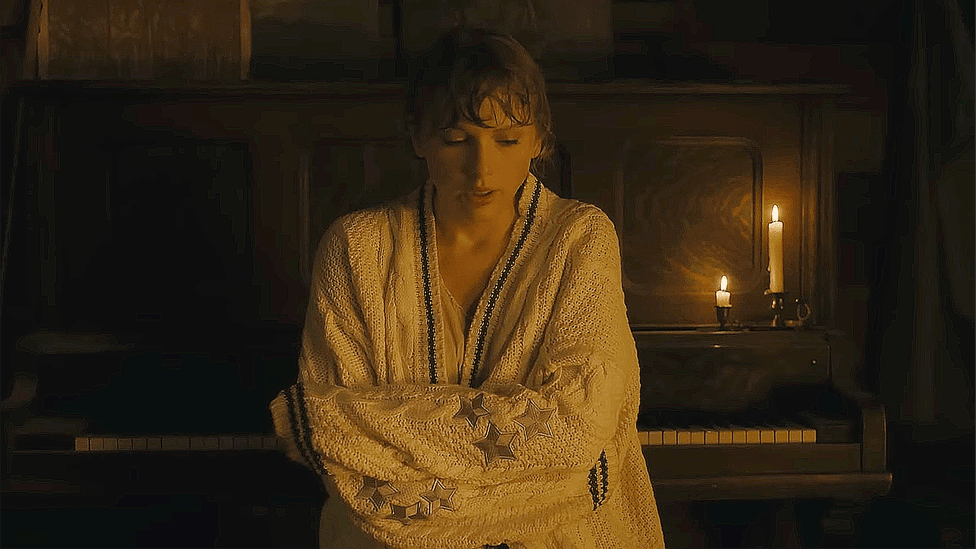 Repeatedly wearing the same item has more advantages than you might think. It's like a "wearable hug", and it's better for the planet, writes Matilda Welin.
W
We all have certain items of clothing that we feel most comfortable in, and that we end up throwing on every day, even though we have 10 other garments that would fulfil the same purpose in the wardrobe. One pair of jeans that fits better than all the others, or one T-shirt that is just us, our best and truest identity in sartorial form. And as New York, London, Paris and Milan fashion weeks aim to create shopping momentum for autumn 2024's must-have new styles, many of us are reclining on the sofa or going for a walk in the park wearing the same jumper we have picked off the back of our bedroom chair every day for years. But why is that? And how do our lazy dressing habits make us sustainability supporters?
More like this:
–          How to dye clothes at home – naturally
–          The rise of the minimalist wardrobe
–          What Diana's sheep jumper really means
Ruth Barrett and her partner Jordan got married a week before the pandemic shut Britain down. While the couple celebrated their wedding in the nick of time, they missed out on a honeymoon. In the grand scheme of things, the lost trip is not a big deal at all, Barrett says, but when she and Jordan were able to drive their car around their local area for a mini honeymoon a few months later, that felt very special. "Obviously there were so many other things that were so much more important," Barrett tells BBC Culture. "That were so distressing [at the time], but we got that little nugget of niceness."
Ruth Barrett was inspired by a Taylor Swift video to buy her cardigan, now her favourite item of clothing (Credit: Courtesy of Ruth Barrett)
The Barretts visited the Northumberland beaches near their Newcastle home. They sought out beautiful nature spots. They saw dolphins. In the car, they had the same album on repeat: Taylor Swift's Folklore. Later, when Swift released a line of cardigans from the video to a song from the album, Barrett bought one.
"I had to get it shipped over from America," she says. "It took ages. Normally I'm very frugal, but I thought it was one thing that I really wanted." The cardigan is hand-knit, cream white with black detailing. "I describe it as a Hamptons style," Barrett says. "A bit preppy." It has stars on the elbows and a label that says Folklore – something not all versions have.
The cardigan makes Barrett feel calm, settled and snug. When she was pregnant two years after her wedding, she wore it every day. She wore it when she went into the hospital to be induced to have her son, and she wore it when she left the hospital with him. When her son was three weeks old, Barrett's grandmother died unexpectedly. Again, she wore the cardigan. It has made the memory of her mini-moon into something tangible, she says, something physical to comfort her during difficult times: "It feels almost like a wearable hug".
Emotional durability
Why do certain pieces of clothing come to mean so much to us? Well, first of all, they have to last – and that does not depend on money. This summer, new research from Leeds University indicated that there is no correlation between a clothing item's retail price and its physical durability. "What we wanted to challenge is the underpinning myth that cheaper garments are going to be poor quality and don't last as long and that therefore, we should be telling consumers to spend more money online," Leeds School of Fashion lecturer Mark Sumner tells BBC Culture. "[But] what we're finding here is that the evidence just doesn't stack up."
But physical quality is far from the only thing that matters. Equally important is a related factor: emotional durability. This is the connection that we're building with our clothes, explains Kate Morris, a PhD student working with Sumner: we don't fall in love with certain garments only because of how they look – but also because of how they make us feel. "People keep clothes, and they become their favourite garment because they were wearing them at a particular event," Sumner says. "[They] have gone to festivals [in them] or gone on holiday, or maybe met their true love." This fusion of emotions and clothing also works the other way. Sumner's team tells of a woman from his team's research who had gone through a messy divorce. When the paperwork was finally completed, she got all the clothes she associated with her husband, put them into bin bags and threw them away. Then, she restarted her wardrobe.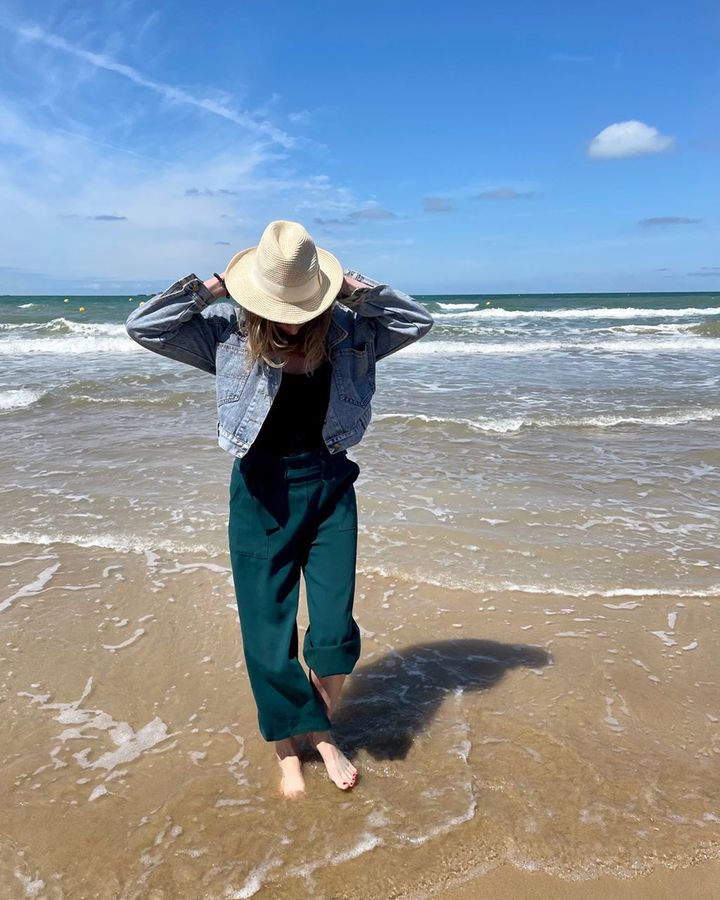 Anna-Maria Bauer's turquoise trousers are her "absolute favourites" – they are in constant use (Credit: Courtesy of Anna-Marie Bauer)
Feedback matters, too. "What you think you look good in is not [your] individual decision," Sumner says. "If you hear from other people that you look really good in a dress, that piece reinforces your self-esteem. I've had this on numerous occasions where you buy something, you wear it and someone goes: 'Oh, that looks a bit funny.' It ends up going in the back of the wardrobe."
In 2018, Anna-Maria Bauer, an Austrian journalist living in Southampton, went on holiday to New Zealand. It was her first very long-distance journey, and after saying goodbye to the friend she had travelled with, Bauer spent the last few days of her trip by herself in an Airbnb in suburban Auckland, slightly nervous about her upcoming flight. When the lady running the Airbnb recommended a high street nearby, Bauer went along to distract herself. Soon, she encountered a small boutique. "As soon as I entered, I felt at home," she tells BBC Culture. "The owner was welcoming but not pushy." Bauer was recommended a pair of turquoise, wide-legged trousers, very different from her habitual skinny jeans. "The price was 70 Australian dollars and I thought, should I really?" she remembers. "[Then] another customer in the boutique said they fitted me well. I had a rush of feelings."
Clothing in numbers
45% of people in the UK purchase clothing at least once a month
Around one in eight shop weekly for clothes
25% of clothes in our wardrobes haven't been worn in a year
The predicted length of time people kept their clothes rose between 2013 and 2021
A pair of jeans is now kept for four years, compared with three in 2013
Source: WRAP/BBC
Today, the turquoise trousers are Bauer's absolute favourites. They work well with both cold and warm weather, with both ballerina flats and high heels. The thick fabric means they are sturdy enough for long days out in London, and comfortable enough for relaxing on the sofa. "With jeans, the T-shirt has to do the work, but with these, I can wear any simple T-shirt and they make it an outfit," Bauer says. "In some clothes, I know I look nice, but I hold my stomach in. But in these trousers, I feel good even when I'm slouching."
The trousers are in constant use. "I wash them and wear them again," Bauer says. "They are on me, on the chair or on the washing line. Never in the wardrobe." And the memory of their purchase is still alive. "I felt safe in the boutique," Bauer says. "The feeling of safety stays with me, the one that grounded me before the flight."
A survey by environmental group WRAP estimates that a quarter of the clothes in British wardrobes haven't been worn in a year, and that these forgotten items have a combined value of £1.6 billion. These are clothes, Sumner and Morris from Leeds University say, from which we have "virtually divested". "They are challenging from a sustainability point of view because you're not using them," Sumner says. "All the energy, water, chemicals and any even the labour that's gone into making them is wasted."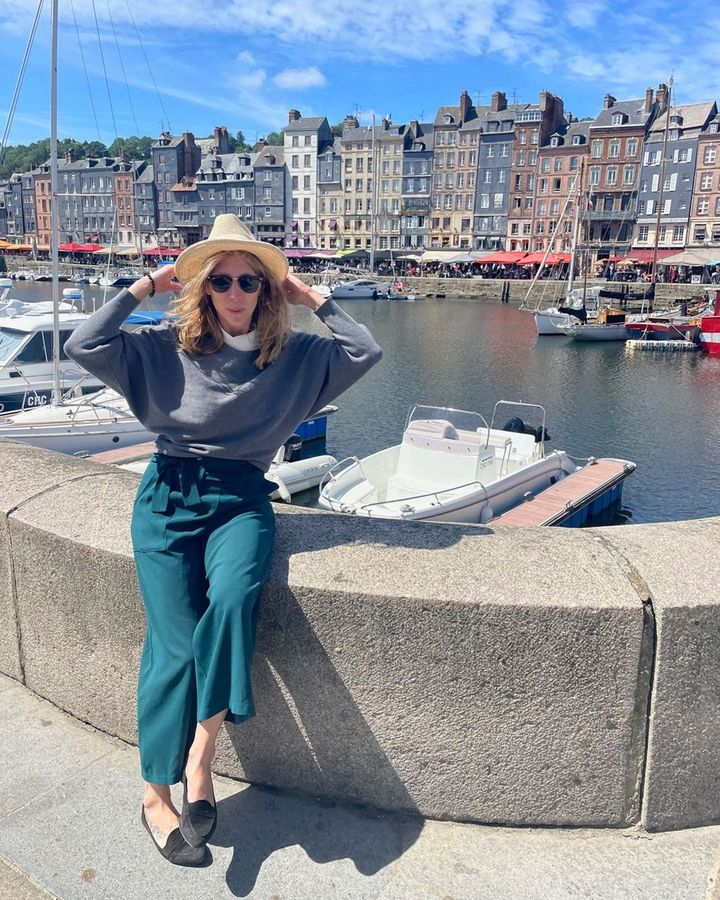 "I wash them and wear them again," says Bauer of her turquoise trousers (Credit: Courtesy of Anna Maria Bauer)
While the scientists say it's almost impossible to predict if a garment will become a favourite before you buy it, you can still improve your chances. It's about focusing on both physical and emotional durability at the same time. For example, we can only create an emotional connection with a piece if it lasts long enough for us to begin to love it. "The emotional connection builds up over time," Sumner says. "You need some time with the garment, and it has to stay functional." (Conversely, he says, denim gets softer and better fitting the more we wash it. That's why we often find ourselves getting more and more attached to our jeans as time goes on.) Equally, fast fashion trends may mean you get rid of items before you give yourself enough time to start building a connection to them.
In Newcastle, UK, Ruth Barrett keeps wearing her cardigan. After finding a supermarket brand that does similar ones, she has bought one for her son, too. "Recently, I spilled coffee on mine, but I managed to get it out," she says. "It is getting bobbly. But [things like these are] almost like a snapshot or a fingerprint. Somewhere that I've been to create a memory. If needed, I could always patch it a little. I can't see myself not wearing it."
If you liked this story, sign up for the weekly bbc.com features newsletter, called The Essential List. A handpicked selection of stories from BBC Future, Culture, Worklife and Travel, delivered to your inbox every Friday.
If you would like to comment on this story or anything else you have seen on BBC Culture, head over to our Facebook page or message us on Twitter.
;