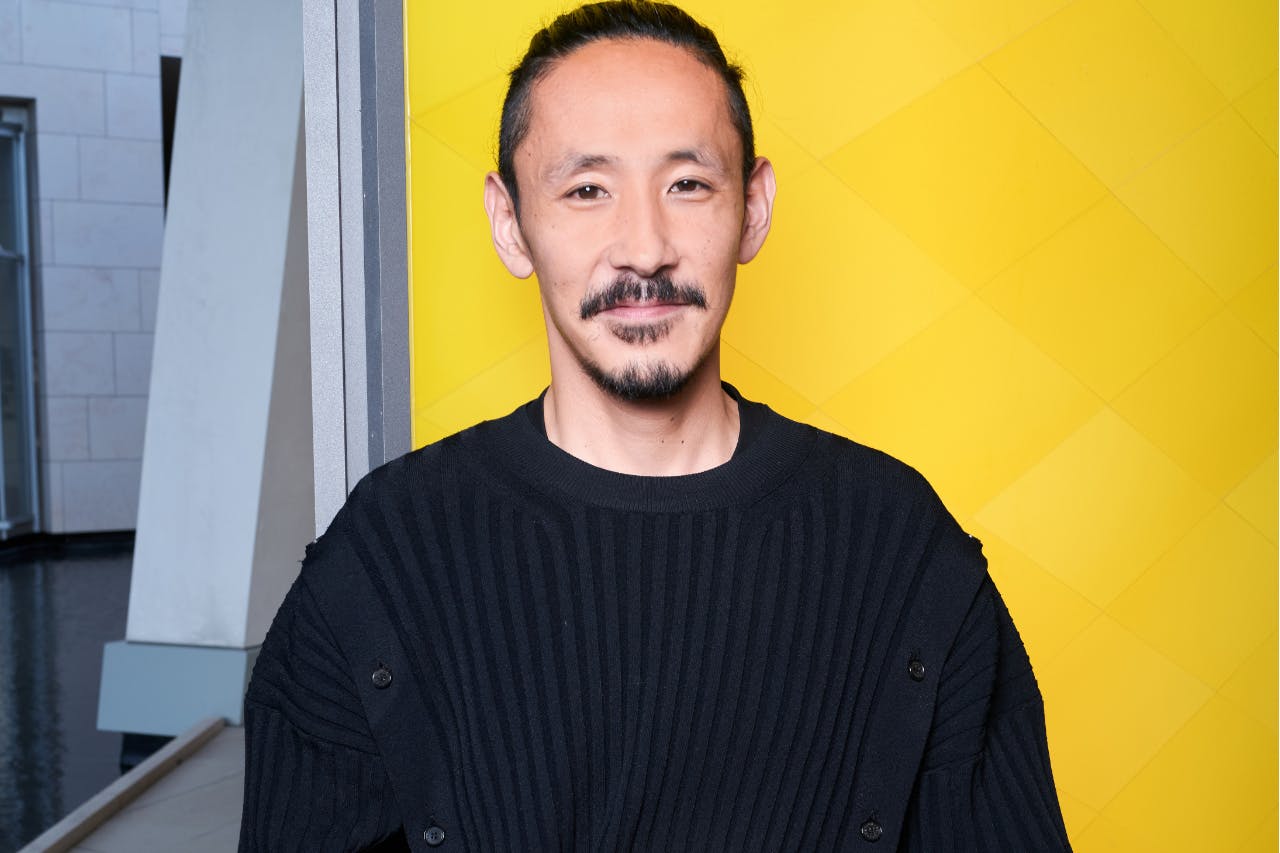 After a lengthy process of whittling some 2,400 applicants down to nine overall finalists, on June 7 this year's LVMH Prize winner was revealed as Milan-based label Setchu.
Founded by Satoshi Kuwata, a former designer at both Givenchy and YEEZY, Setchu gets its name from the Japanese phrase 'wayo setchu', which roughly translates to "a compromise between Japan and the West".
An apt name for a brand whose garments do exactly that.
Now as an LVMH Prize winner, Kuwata can now finally enjoy success with a label of his own.
"I didn't name my brand with my name, because fashion is teamwork," Kuwata tells Highsnobiety in a Zoom call following the announcement.
"You've probably interviewed a lot of designers who need money and help, but I've always had a really great team around me. I just want to hold them later and thank them."
Naturally, capital is one of the biggest issues for emerging designers taking their labels to the next level.
However, with the 2023 LVMH Prize reward — €400,000 and a year's mentorship from LVMH insiders — this won't be an issue for Setchu. Kuwata already has plans to expand his collection to include accessories, sneakers, and bags.
"I believe in myself," he says. "I want this company to be one of the maisons in this [LVMH] group. I'm thinking about a 20-30 year goal."
Since its inception back in 2014, the LVMH Prize (which has previously been won by names like Simon Porte Jacquemus, Grace Wales Bonner, and S.S. Daley) has been a holy grail for young aspiring designers.
So too has its runner-up Karl Lagerfeld Prize, which also comes with a lucrative cash sum (€200,000 a piece), as well as a one-year LVMH Group mentorship program. This year, the prize is shared by Luca Magliano's eponymous label and Ukrainian designer Julie Pelipas' Bettter.
"I can't wait to have another point of view of my projects from people who do luxury," says Luca Magliano.
"From the money point of view, I want to hire people. I want to make the structure of Magliano stronger. At this point we have three people working at the brand, which is now becoming quite big. We're at a good moment of maturity."
When I ask Magliano how he'll celebrate the win, he laughs. "I'll be with the other guys of the prize. I'll get drunk, but not too much. I'll relax, sure, but in a week we have a show in Milan."
As for Pelipas (a former Vogue Ukraine editor), she too has big plans for her label, which is fast becoming renowned for its wide-scale upcycling that gives deadstock fabrics new life.
"I dream that this approval of Bettter will bring it to the right place," she says. "I believe it's the right time in terms of scalability, in terms of sourcing, upcycling, and selling locally.
"I really truly hope it will help me develop my technology further, and place it and my brand in the right position in the industry."
Shop our favorite products