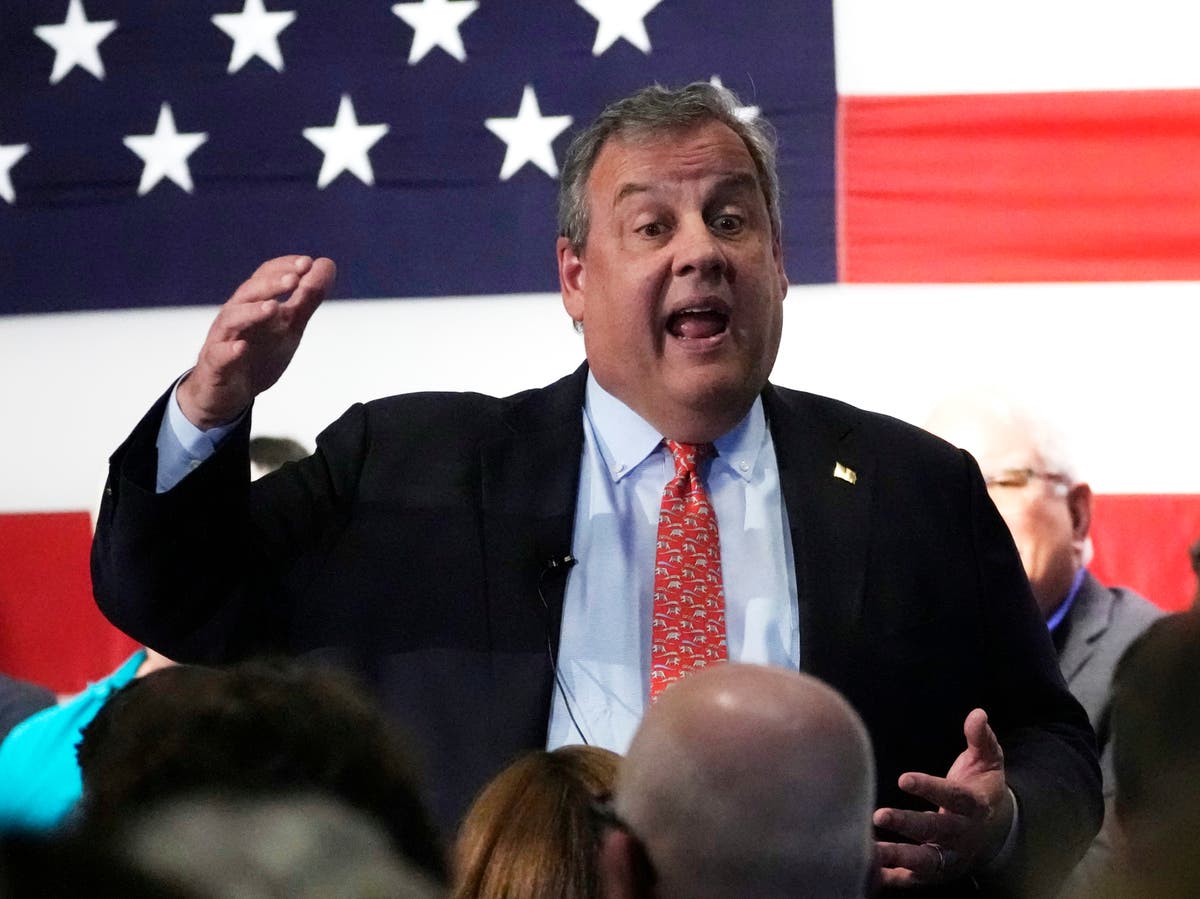 Chris Christie lays into Trump at 2024 campaign launch
Former New Jersey governor Chris Christie launched his campaign for president on Tuesday evening at a town hall event in Manchester, New Hampshire.
This is the second time Mr Christie has made a bid for the White House, the first being in 2016 when he lost to former president Donald Trump.
Though Mr Christie lent his support to Mr Trump in 2016 when he dropped out of the race, he has since changed his opinion of the former president and become a vocal critic.
That was evident on Tuesday, as he denounced his former ally as a corrupt narcissist and vowed to draw blood in his quest for the Republican nomination. He did so several times during the town hall event, notably by tearing into the former president's family for "breathtaking" levels of corruption and "grift", which he said had followed them through the White House and beyond.
The former New Jersey governor plans to position himself as a moderate Republican alternative to both Mr Trump and Florida governor Ron DeSantis, while promising an aggressive campaign unafraid to punch at his rivals.
His attacks have already drawn a vicious response from the former president on social media.
1686214800
Christie in 2011: 'Now is not my time'
Mr Christie notably passed on running for the nomination to challenge Mr Obama, saying in 2011, "Now is not my time."
At the time, the move seemed prudent. In the weeks before the 2012 election, he led the state during Hurricane Sandy and while images of him hugging Mr Obama angered conservatives in the weeks before voters cast their ballots, it led to him winning re-election in 2013 by overwhelming margins.
Revelations that members of Mr Christie's team ordered two of the three lanes on the George Washington Bridge to be closed, which caused a massive traffic jam, cratered the governor's numbers.
Eric Garcia8 June 2023 10:00
1686211200
VOICES: Chris Christie gave Trump legitimacy. Now he can't stop Trump in 2024
Running for president is as much about timing as anything else. When Barack Obama ran, Ted Kennedy, the patriarch of the Kennedy clan who had a failed White House run under his belt, notably told the would-be president: "You don't choose the time. The time chooses you."
The 2012 presidential race was likely Chris Christie's time. In 2009, he won the governorship in staunchly Democratic New Jersey and had become a favorite of conservatives for his willingness to combat teachers' unions and other Democratic groups in moments that went viral in the right-wing media ecosystem. It was "owning the libs" before "owning the libs" was a thing.
Read more:
Eric Garcia8 June 2023 09:00
1686207600
Don Jr joins father in mocking Christie's weight
Gustaf Kilander8 June 2023 08:00
1686204000
California Democrat says out of GOP primary field, he prefers 'retweeting Chris Christie'
Gustaf Kilander8 June 2023 07:00
1686200400
Chris Christie is in the GOP primary to win it all
If there was one takeaway from Tuesday night's event, it was this: Chris Christie is in the GOP primary to win it all, and he plans to do so by setting himself apart from his fellows as a bold, unflinching truthteller — ironically, the same reputation that Donald Trump constructed for himself in 2016.
Whether his newfound courage will be enough to convince his potential voters to break away from the man whom the governor admitted tonight to supporting in two presidential elections? That's another story.
John Bowden8 June 2023 06:00
1686196800
Trump and Rubio respond to Christie launch
Despite his insistence on Truth Social that he was not worried about the entrance of his former ally into the race, Donald Trump clearly had Chris Christie on his mind Tuesday evening as he blasted out commentary from his social media platform.
"How many times did Chris Christie use the word SMALL? Does he have a psychological problem with SIZE? Actually, his speech was SMALL, and not very good. It rambled all over the place, and nobody had a clue of what he was talking about. Hard to watch, boring, but that's what you get from a failed Governor (New Jersey) who left office with a 7% approval rating and then got run out of New Hampshire. This time, it won't be any different!" Mr Trump wrote.
So too did Marco Rubio, Christie's unfortunate victim in 2016, who lamely insisted in his own tweet that the New Jersey governor's onstage humiliation of him had not contributed to his downfall.
John Bowden8 June 2023 05:00
1686193225
'Joe Biden never beat anybody outside the state of Delaware in 45 years except for one guy – Donald J Trump'
For the most part, Mr Christie focused on his real advantages as a candidate: The fiery personality that won him both praise and criticism in New Jersey, and a willingness to spar with his opponents at a surgical level. He laid the blame for Joe Biden's 2020 victory at his opponent's feet, calling the now-president a weak politician who had gone up against a hopelessly-damaged candidate.
"He wouldn't be in office if it wasn't for Trump. Joe Biden never beat anybody outside the state of Delaware in 45 years except for one guy Donald J. Trump…not once, until he ran up against the guy who the American people knew in their heart was full of it," said the ex-governor.
John Bowden8 June 2023 04:00
1686189625
Christie eager to get into a brawl with his opponents
Whether Mr Christie's fiery comments will translate into votes for his candidacy, rather than just the destruction of his foes, is not yet evident. But what is evident is the eagerness of Mr Christie to get into a brawl with his opponents, a trait so far only shared by Mr Trump himself.
That similarity was picked up on by one questioner, who identified herself as a clinical psychologist concerned about a nation "traumatised" by constant anger and divisiveness. Mr Christie responded that his brash nature and willingness to throw punches at his opponents was a strength only because it was supposedly paired with a humility and willingness to admit his own mistakes that made him a good leader.
It was at least the outline of an effective campaign, if one light on actual policy. The governor did touch on a few national issues, such as when he expressed his opposition to federal efforts to ban abortion — unless, he conceded, there was real support in Congress for it — as well as when he touched on the issue of Ukraine, and labeled Republican rivals Vivek Ramaswamy and Ron DeSantis the "Neville Chamberlains" of the 2024 race for their supposed willingness to give endless concessions to a dictator.
John Bowden8 June 2023 03:00
1686186025
Christie blasts rivals unwilling to slam Trump
Mr Christie made clear during his launch that he has little patience for his other rivals, those like Ron DeSantis, Nikki Haley and Tim Scott, who have thus far played coy with their thoughts regarding the former president and his legacy.
He even torched Trump family members Jared Kushner and Ivanka Trump for receiving a $2bn investment from a Saudi firm into one controlled by Mr Kushner just a short time after they left the White House, deriding it as evidence of a corrupt relationship.
"The grift from this family is breathtaking. Jared Kushner and Ivanka Kushner walk out of the White House, and months later, it turns out, they get $2bn from the Saudis?" said Mr Christie.
"That makes us a banana republic," he added.
It was comments like that — plus his effortless deconstruction of calls from his rivals to ignore leaders who don't "look forward", and their calls for "generational change" — that outlined Mr Christie's strengths as a politician and in-person campaigner.
John Bowden8 June 2023 02:00
1686182425
Trump is a 'self-consumed, self-serving, mirror hog,' Christie says
Mr Christie spoke at length before taking questions from his guests. In his remarks throughout the event, he remained plain-spoken and sharp-tongued while denouncing the four years of his rival's presidency as an utter failure and little more than an opportunity for "breathtaking" levels of corruption and "grift" carried out by the Trump family.
He called the man he twice supported for the White House a "self-consumed, self-serving, mirror hog", and said that Americans now had four years' worth of a record with which to judge the former president.
John Bowden8 June 2023 01:00