If Vladimir Saldo was trying to project a sense of calm among the deluged frontline towns and villages of Russian-occupied Kherson region, he was failing miserably.
The Kremlin-installed "governor", dressed in camouflage and helmet and sitting in front of the flooded remains of the town centre of Nova Kakhovka, claimed that the city was "alive".
"People are calmly walking around the streets," said Saldo, as the flood waters rose up the walls of the city hall behind him. "I've just driven around the streets, people are working, the gas stations are open, some stores are open."
The reality of the catastrophe was playing out around him: people stranded on the roofs of their houses and flats, begging for those with boats to come and save them. Dozens missing and whole towns downriver washed away. And reports that Russian troops were blocking access to the frontline towns on the left bank of the Dnipro river by installing new checkpoints even as the flood waters continued to rise.
"Everyone is left to fend for themselves, there is no organised evacuation," said Gleb, a resident of Nova Kakhova who was looking for ways to leave the city.
As an anticipated Ukrainian counteroffensive looms, Russia's frontlines appear to be in serious disarray, as local mismanagement, military infighting, and callous disregard seem to point to serious problems as the war threatens to come home for Russia.
If Russia bears responsibility for the destruction of the Kakhovka dam, as many suspect, it is an act of supreme desperation that the Ukrainian president, Volodymyr Zelenskiy, has equated to an "environmental bomb of mass destruction".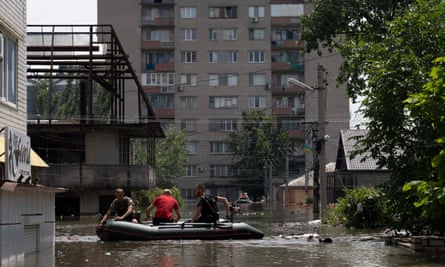 Weeks before the waters of the Dnipro River were unleashed on the town south of Nova Kakhovka, there were signs that Russia was dangerously overextended along the potential frontlines of a Ukrainian counteroffensive.
In Russia's Belgorod border region, Russian troops have effectively abandoned a number of small towns and villages as irregular Ukrainian-backed insurgent groups carry out cross-border raids. Once a sideshow, the paramilitaries, including many Russians with far-right connections fighting against the Kremlin, have managed to capture and hold territory inside Russia.
Shebekino, a Russian town of about 45,000 people, has effectively become a frontline city and come under heavy shelling, with all but about 500 residents fleeing from the border area.
"The city is empty, there are signs of destruction all around, there are no soldiers there," Oleg, a volunteer who had travelled to the town to bring food and medicines, told the Guardian. "They are completely devastated, it's hard to think sensibly in such stress. Even worse is the lack of water and light."
"We have left everything," Olga, who has lived in Shebekino for 40 years with her husband, told the Guardian from a temporary shelter in Belgorod. "We feel like nobody is protecting us."
The Russian Volunteer Corps, an anti-Kremlin militia, claimed it had captured Novaya Tavolzhanka, one of the largest villages in the region. It had even taken prisoners, including a 23-year-old chef from the Pskov region who said he was a mobilised soldier. Vyacheslav Gladkov, the regional governor, admitted on Monday that Russian troops "cannot reach the village", effectively confirming that they had temporarily lost control over a Russian town. In many ways, the border area appears largely unprotected.
"It's a big question, why is the national guard not all over this, it is their job to protect the border areas, and its completely unclear why they aren't there," said Dara Massicot, a senior policy researcher at RAND who specialises in Russian military strategy. "If Russia has to bring in the military to protect its borders it will be a huge embarrassment. The national guard has armoured equipment and some 300,000 people; where are these people?"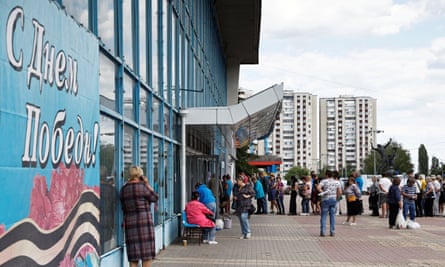 Reporters working in Shebekino described conditions similar to those in frontline towns in Russian-occupied Ukraine, noting that the war had never been closer. "It's very unusual to be in a flak jacket and helmet inside of Russia, old Russia," said Maryana Naumova, a Kremlin-aligned journalist who visited Shebekino this week.
Those involved in evacuations have described getting little to no help from the authorities, who have been conspicuously absent in managing the tumult near the border.
"The situation in Shebekino is bad," Sergei Apanasenko, a resident, told the Guardian. "I have evacuated 20 people since last week. There is a feeling that people are forgotten and the authorities aren't helping with evacuations. We have to do everything ourselves."
Propaganda pundits have gone on television to calm the population. Margarita Simonyan, the head of state-financed RT, called the cross-border raids "information attacks" meant to sow panic and said it was "working with many people I know".
"It is being done for us all to see these scary pictures, that the war is already on our territory," she said. Asked why the army had not yet launched a serious counterattack, she said: "I don't know when, I am not our army, all I can do is to pray."
Inside the city, locals have grown so desperate that many are beginning to call for Yevgeny Prigozhin, the Putin-connected warlord, to take over its defence.
"Shebekino is destroyed. It feels like Moscow has forgotten that Shebekino is Russia. We would like for Prigozhin to come and help us," Evgeny, a local who had also shared a post saying #Prigozhinhelpus, told the Guardian.
Prigozhin himself had raised his hand to enter the city, continuing a longstanding feud with the Russian army over the distribution of ammunition and general prosecution of the war. "If the ministry of defence does not stop what is happening in the Belgorod region … where Russian territory is in fact being captured, then obviously we will arrive," he said in an audio message published by his press service.
"We will defend … Russian people and all those who live there."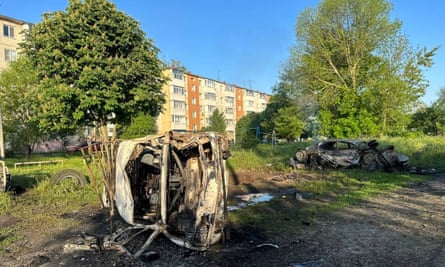 Prigozhin has increasingly thumbed his nose at the military leadership, ridiculing them for failing to stop last week's drone attacks against Moscow and for a recent video of the purported destruction of a Leopard tank that he said looked more like a Ukrainian combine harvester.
In the biggest sign of a schism, Wagner troops beat and humiliated a serving Russian officer in command of the 72nd Brigade for allegedly ordering his soldiers to fire on a Wagner convoy. The rifts in Russia's war machine have grown as Wagner has pulled out of positions in Bakhmut after spending eight months to take the city, leaving regular troops to guard the frontlines while his mercenaries may seek to avoid the opening blows of Ukraine's coming counteroffensive.
"The Russian army will now be properly tested, they won't be able to hide behind Wagner like they did in Bakhmut," said Marat Gabidullin, a former Wagner mercenary who knows Prigozhin. He has written a memoir about his time in the paramilitary organisation.
"Prigozhin has built a very strong personal brand. He has positioned himself as the leader of the silent majority that isn't heard. Many trust him more than the defence ministry. They see Prigozhin as their saviour."